Same Day Shipping
Super Bright LEDs warehouses are centrally located in the U.S. If your order is placed Monday through Friday before 3 p.m CST, we will ship it that day. If you find that you need to return or exchange a product, we offer hassle-free 30 day returns and exchanges inside and outside of the U.S.
Site Tools
Account
Shop by Category
2003 Volkswagen Golf
Tail Light Bulb
Bright, long-lasting LED tail light bulbs will ensure that your 2003 Volkswagen Golf stands out from its surroundings. In addition to increased safety as a result of being more visible to others, our maintenance-free LED tail light bulbs can last the lifetime of your vehicle.
Refine Results
Polarity Sensitive
Help
Bulb Polarity
Polarity Sensitive (YES)
Bulbs have Plus and Minus (like batteries) and will only work when polarity is correct. If bulb does not work when installed, turn it around in the socket.

Polarity Sensitive (NO)
Bulbs do not have Plus and Minus and will work either way installed in the socket.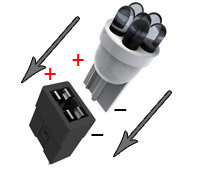 Image

Part NO

Lumen(Max)

Beam Angle

Beam Angle

Beam angle is used to express the width of the light emitting from the source. The narrower the beam angle the more focused the light energy is. Comparing two 40 watt lights one with a beam angle of 30(a) and another with a beam angle of 90(b), They both produce the same amount of light output but (a) will appear brighter in the beam angle compared to (b) at the sacrifice of light spread.

Price Ea.

67-R15
631 nm
105 lm
210 °
0.08 A
$4.95


(Qty 1-349)