LED Parking Lot Lighting Case Study: CCA Global Partners, St. Louis, MO
Large turn-key LED lighting projects are becoming increasingly popular as cities and businesses realize how they can benefit. Energy and maintenance savings, improved visibility and security, tax or rebate incentives, and bettering the environment are some of those benefits. In 2018, CCA Global Partners hopped on the LED bandwagon with a project at their Earth City, MO offices.
This location is where CCA Global Partners carries out accounting, legal, and rebate operations. It's also home to ProSource Wholesale—one of their 14 co-ops. This private showroom is one of many, and it provides trade professionals and their clients access to a wide selection of wholesale floor coverings. CCA Global Partners, as a whole, has 14 brands ranging from flooring to biking, nonprofit, and more. They work to provide thousands of entrepreneurs with the resources they need to grow successful businesses.
Problem:
CCA Global Partners was experiencing poor parking lot visibility. The shared services cooperative had been lighting their 230,550-square-foot outdoor space with metal-halide (MH) fixtures. Light from these fixtures appeared dim and yellow. In an effort to improve visibility and reduce energy consumption, they decided to swap their inefficient MH lights with new LED fixtures from superbrightleds.com.
Remedy:
Super Bright LEDs worked with CCA Global Partners on a turn-key project that provided them with 32 new outdoor LED lights to replace what they had. Six 400-watt MH wall packs were replaced with six of SBL's 80-watt LED wall packs, and 19 400-watt MH parking lot lights were replaced with 12 150-watt and seven 200-watt LED parking lot lights. CCA also purchased four can lights for their rear awning and an additional three parking lot lights; all added lights were installed as part of the project. The LED parking lot lights required wall-mount brackets and fixed arm kits, which were part of CCA's purchase.
Results:
Turn-key cost of the entire project (products, labor, disposal, and project management) was $14,533. A one-time utility rebate brought net cost down to $12,680. With money-saving incentives, a 5-year payback, and a projected savings of nearly $11,000 by the 10-year mark, the project proved to be well worth the upfront cost. Not to mention CCA was also able to purchase the additional parking lot lights and can lights while still receiving a hefty return on their investment. There was also a drastic difference in appearance and visibility as well as a significant reduction in greenhouse gas emissions. All of the LED products used for this project emit cool or natural white light. This created a crisp, well-lit parking lot without being overly bright.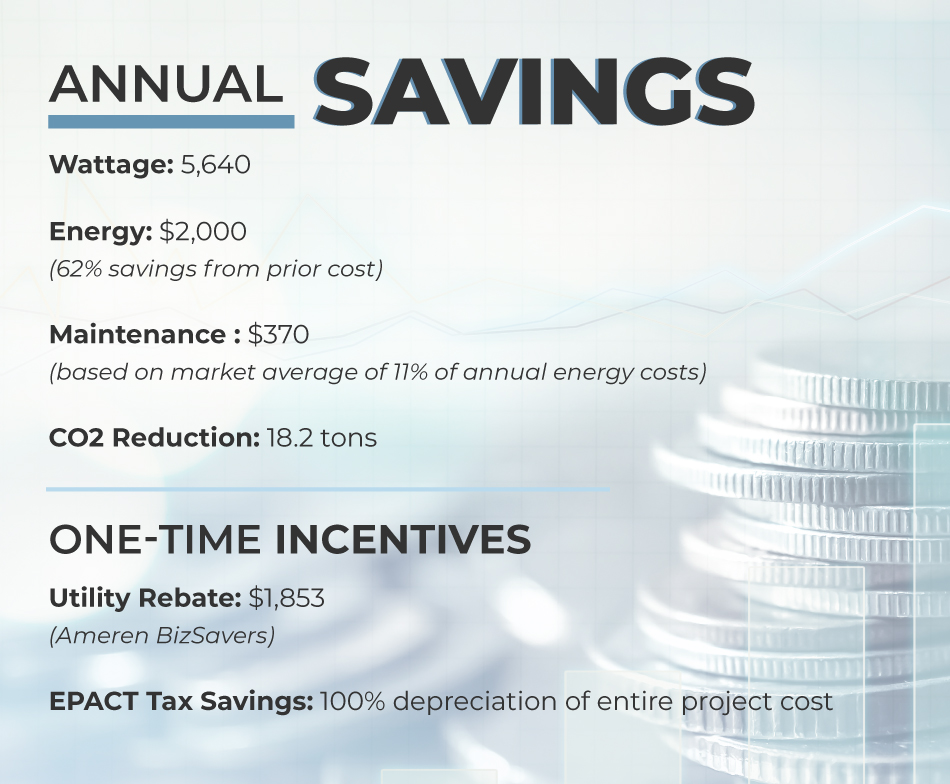 If you're thinking of adding LED lights to your business and would like help, Super Bright LEDs' dedicated commercial account representatives can assist with every step of your project. Don't hesitate to call us toll free at 866-590-3533 8:30 a.m. to 4 p.m. CDT Monday-Friday.