A Buyer's Guide: How to Choose an LED Wall Pack
LED Wall Packs have made great strides in energy efficiency, architectural design, and life span since the days of metal halide and high pressure sodium fixtures. Whether you're looking to transition from traditional wall packs to LEDs with minimum hassle, or choose a completely modern appearance, we offer a wide variety of solutions.
If you're looking to replace existing wall packs with a similar footprint but improved performance, Standard style is an ideal option. Modeled after a traditional form factor, this LED alternative will likely cover any color variation left on the wall by the old light. Light distributes in a wide, generous out-and-down beam pattern. Brighten dark building exteriors and bring greater security to perimeters with this modern take on an original design. Super Bright LEDs has options available with glass or polycarbonate lenses, white or bronze powder coating, and power to replace 70-1000W metal halide equivalents.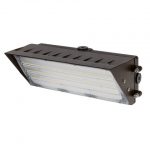 Semi cutoff style is also suited for covering traditional wall pack footprints. "Semi Cutoff" refers the hood which cuts off a portion of uplight. For environments that require reduced uplight but still a wide distribution of illumination, this is the ideal solution. Already efficient. lightweight, and built for durability, this style offers improved performance by directing light only where it's needed. Replace metal halide fixtures in industrial or commercial locations like warehouses, parking lots. building complexes, and more.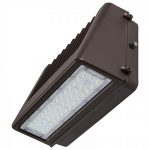 Full Cutoff design directs light downward and eliminates all uplight. Find larger, more traditional full cutoffs that cover existing footprints, or more modern, slim designs to update your space. This more focused illumination is common in many commercial and industrial spaces, and is especially ideal for smaller, more narrow applications such as above doors. The directed light is also used in locations where less disruption to surrounding wildlife is preferred, such as parks and residential complexes.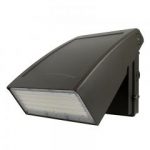 Adjustable style wall pack gives you the ability to choose the angle of light distributed in any given space. The full cutoff housing maintains a more focused, direct illumination. But the hinged design allows the installer to adjust light the shine where it's needed. A downward angle is deal for brightening just above an exterior doorway, while angling outward provides broader visibility. Update your lighting to a compact, slim architectural style with a custom angling feature.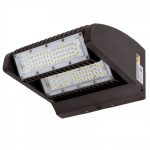 This unique Rotatable style allows for even greater customization of light angle. LEDs are integrated into a module that can pivot a full 360° to illuminate in any direction. Options with two light heads allow for two different beam angles to emit from one fixture. The more aesthetic design, and ability to tailor light distribution to your environment gives this light a wide range of application possibilities. Use this fixture as a typical wall pack in a warehouse, commercial entryway, or industrial facility, or, us it as a decorative sconce or wall washer on building exteriors.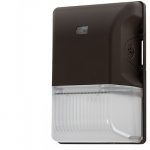 The compact, slim design of the Mini style does not compromise on powerful brightness. One of the more modern form factors, the architectural fixture is ideal for illuminating common commercial and industrial applications, as well as smaller locations such as doorways, and the exteriors of sheds and barns. Though slender and lightweight, this wall pack still distributes a wide beam of light, providing visibility and security around perimeters and entryways.
Each wall pack offered at Super Bright LEDs comes with weatherproof construction and efficient optical performance. But there are some additional features available for even greater convenience and customization of your outdoor illumination. See some of the possibilities below.

Many wall packs come with integrated photocell to automatically turn light on at night and off during the day. This dusk-to-dawn feature streamlines operation of the fixture while reducing wasted energy costs. Many integrated photocells are easily bypassable within the housing. If it's not integrated into the luminaire, this sensor is oftentimes available as a compatible accessory. Whatever your photocell needs are, Super Bright LEDs has the option to match.

The contractor and installer's friend, field-selectable CCT is a feature integrated in several wall pack styles that give one light several SKUs. Change a light's color temperature to match existing fixtures, or to match a customer's preference during the install. Choose from a range from cool, bright white to warm, nighttime friendly white.

Though efficiency is inherent in every LED fixture, for industrial and commercial locations that require enhanced performance and certification, there is a wide selection of DLC Premium wall packs to choose from. Shop luminaires with efficacy of 130 lm/W, or more, to reduce energy consumption. Qualify for utility rebate programs with the third party certification to further save on energy bills.
Whatever your lighting needs, for wall packs and much more, Super Bright LEDs carries a range of options and available expertise to serve them. Search our blog and website to find the answers to all your LED questions, and reach out to our customer service at 866-590-3533 for specific support on your lighting project.