Navigation
Site Tools
Account
1969 Fiat 124
High Beam and Low Beam Headlight Bulb
1969 Fiat 124
High Beam and Low Beam Headlight Bulb
Light up the night with our high-beam and low-beam 1969 Fiat 124 LED headlight bulbs. Swap your factory bulbs for ours, and experience some of the brightest headlight bulbs with LEDs from top-notch brands like Cree and Luxeon so that you can see and be seen better than the rest.
Refine Results
Bulb Polarity
Polarity Sensitive (YES)
Bulbs have Plus and Minus (like batteries) and will only work when polarity is correct. If bulb does not work when installed, turn it around in the socket.

Polarity Sensitive (NO)
Bulbs do not have Plus and Minus and will work either way installed in the socket.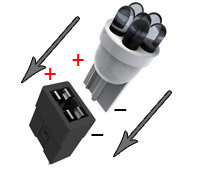 1.
Brightness
Brightness
The brightness of a product in relation to the 2 results.
| | |
| --- | --- |
| This Product | 3800 lm |
| Brightest Product in Results | 3800 lm |
Oversize
Oversize
Some LED bulbs are physically larger than standard bulbs with the same base type.
We currently provide full dimensional drawings and list the dimensions of each bulb on the More Info pages.
We always recommend checking our bulb dimensions and comparing with the space available where the bulb will be installed.
---

Dimensions: 17.5cm(6.89") x 17.5cm(6.89") x 12.5cm(4.92")
This off-road headlight can be used in various Jeep models and in Range Rover Defenders with 7" sealed-beam headlights but will replace all H6024 bulbs (for specific vehicle fitment, see the
Vehicle Bulb Finder
). Each headlight has 12 powerful CREE LEDs that emit 3,800 and 3,000 raw lumens, respectively, on its high- and low-beam settings. The heavy-duty, waterproof LED headlights are constructed of a shatterproof polycarbonate lens and a die cast aluminum housing that acts as an LED-cooling heat sink. Plug-and-play H4 connectors or included H4 to H13 base adapters allow for high- and low-beam operation, and spade connectors control daytime running light function. A warning canceler is included to prevent bulb-out error messages. The LED headlights operate within a wide 9-36V DC range. Available with chrome or black inner faceplate. Includes 1 LED headlight.
Show More
In Stock
Volume price as low as
$

127.46
View More Information
Make Your Selections
Black

Chrome

2.
Brightness
Brightness
The brightness of a product in relation to the 2 results.
| | |
| --- | --- |
| This Product | 1600 lm |
| Brightest Product in Results | 3800 lm |
Dimensions: 17.655cm(6.95") x 9.235cm(3.64") x 17.655cm(6.95")
This multi-function LED light is designed for use as an off-road driving light but can also be used to replace 7" Jeep or motorcycle factory headlamps. The appropriate amount of cool white light can be selected for any time of day; the LED light has an output of 1,600 lumens on its high-beam setting, 600 on low-beam and 160 on its daytime running light/fog light setting. A shatterproof polycarbonate lens works with the light's sturdy black painted aluminum or chrome housing to guard against damages while an integrated heat sink keeps the light running cool. This headlight has the highest waterproof rating of IP69K—proven to withstand high-heat, high-pressure spray washes and submersion. An H4 connector allows for plug-and-play operation within a wide 10-30V DC range, and the LED light has a 17" power cord for extended reach. Includes installation hardware and an adjustable single-bolt mounting bracket.
Show More
In Stock
Volume price as low as
$

97.46
View More Information
Make Your Selections
Black

Chrome