Same Day Shipping
Super Bright LEDs warehouses are centrally located in the U.S. If your order is placed Monday through Friday before 3 p.m CST, we will ship it that day. If you find that you need to return or exchange a product, we offer hassle-free 30 day returns and exchanges inside and outside of the U.S.
Site Tools
Account
Shop by Category
1965 Ford Custom
Tail Light Bulb
Bright, long-lasting LED tail light bulbs will ensure that your 1965 Ford Custom stands out from its surroundings. In addition to increased safety as a result of being more visible to others, our maintenance-free LED tail light bulbs can last the lifetime of your vehicle.
Refine Results
CAN Bus
Help
CAN Bus
CAN Bus LED bulbs are simple plug-and- play LED bulbs which are made specifically for CAN Bus-equipped vehicles. These bulbs work with your vehicle's advanced computer system, so when your vehicle's computer reads them, they respond back correctly. To see if your vehicle operates with a CAN Bus system, simply remove the bulb you're looking to replace, start your vehicle, and if you have a "Bulb Out" message on your dash you have a CAN Bus system.
1.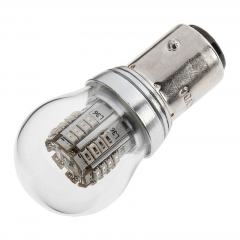 Dimensions: 5.08cm(2.00") x 2.502cm(0.99") x 2.502cm(0.99")
In Stock
Volume price as low as
$

13.45

Super Bright LEDs, Inc. offers a 3-year warranty to protect against manufacturer defects and malfunctions. If you experience failure of an LED or other component not caused by negligence, abuse, unauthorized repair or disassembly, we will replace the product within the warranty period. If the same product is no longer available, a product of equal value may be substituted.
Read More
Page 1 of 1
|
1 - 1 of 1 Results