Navigation
Site Tools
Account
LED Products
1.
Brightness
Brightness
The brightness of a product in relation to the 2 results.
| | |
| --- | --- |
| This Product | 675 lm |
| Brightest Product in Results | 675 lm |
IP Rating

Linear LED light bar fixtures are an extremely versatile solution for a variety of lighting needs, such as cabinet lighting, under-cabinet lighting, desk lighting, bookshelf lighting, showcase lighting, truck bed lighting, RV ceiling lights, and more. This 1-5/8' aluminum LED light bar emits up to 675 lumens of cool white, natural white, or warm white illumination. The waterproof light fixture has 12 VDC operation and is equipped with male and female DC barrel connectors on both ends. Easily join up to 9 fixtures together.

2.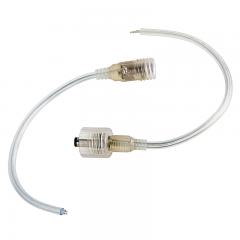 WLFA2 series waterproof power wire. Includes one male and female connector with screw on cap. 5.5mm barrel plug. Connects to WLFA2-xW15SMD series strips. 17.78cm(7in) length.