Navigation
Site Tools
Account
LED Products
1.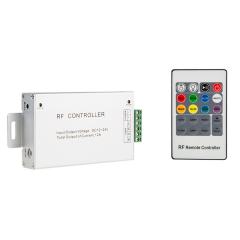 Universal Red/Green/Blue (RGB) controller and dimmer with handheld RF Remote can control any 12VDC RGB LED products. 8 individually selectable Dimmable Static Color Modes. 6 individually selectable Dynamic Color-Changing Modes with Speed, Brightness, Play/Pause and ON/OFF controls. Maximum load is 4 amps per channel, 12 amps total.

Super Bright LEDs, Inc. offers a 2-year warranty to protect against manufacturer defects and malfunctions. If you experience failure of an LED or other component not caused by negligence, abuse, unauthorized repair or disassembly, we will replace the product within the warranty period. If the same product is no longer available, a product of equal value may be substituted.
Read More

Products with a Federal Communications Commission (FCC) label meet all requirements and rules set forth by the FCC and won't cause interference with other electronic devices. According to FCC's website, "The Federal Communications Commission regulates interstate and international communications by radio, television, wire, satellite and cable in all 50 states, the District of Columbia and U.S. territories." Products that generate radio frequency (RF) energy, such as RF remote controls and certain LED light bulbs, are tested to ensure that they are within the FCC's guidelines and limits and do not cause harmful interference.

RoHS stands for Restriction of Hazardous Substances. Certain materials used in electronics and electrical products have been deemed hazardous to people and the environment and, therefore, must be limited. For a product to be RoHS compliant, testing must be performed and documented to show limited or no use of cadmium, hexavalent chromium, lead, mercury, polybrominated biphenyls, and polybrominated diphenyl ethers.