LED (Light Emitting Diode)
When electrical current flows through a semiconductor, it excites the electrons within the diode, making them release photons, which we see as light.
Lumens
Standardized unit of measurement of the total amount of light that is produced from a light emitting source. The higher the number, the brighter the light.
IP Rating (Ingress Protection Rating)
Specifies the protection of electrical equipment in a given environment. All of our off-road light bars, work lights, and mimi-aux's are IP67 or IP68 rated. The higher the numbers, the greater the level of protection.

IP67
indicates the lamp is protected from dust and capable of withstanding water immersion up to 3 feet for 30 minutes.

IP68
indicates the lamp is dust tight and can be continously submersed in water without damage.
Optical Efficiency
Measures how much the total lumens sent into that component come out of it, through the optical surfaces. The higher the rating the greater the amount of light being broadcast. (See Raw vs. Effective Lumens)
LED Watts vs. Power Consumption
Because an LED can be driven at its full capacity doesn't mean there is benefit in doing so. For example, a 3W LED can be driven at 3W, a 5W LED can be driven at 5W, etc. Driving an LED at maximum power generates higher temperature, which decreases lifespan. A balance between LED wattage and the lights; other components, such as the heatsink, allow for maximum operating efficiency and light output, while prolonging life expectancy.

Lumen rating is typically one of the major factors used to valuate LED lights. But are those lumen numbers raw lumens, or effective lumens? What's the difference?
In the examples below, the LEDs are rated at 100 lumens each. Factors such as heat, lenses, and driving power of LEDs will affect the Raw Lumen value, resulting in a lower value which is the actual, or effective lumen output.
Raw lumen output is a theoretical value rather than an actual measurement of useful, or effective light. Raw lumens are calculated by multiplying by the theoretical output rate of the LEDs by the number of LEDs in the lamp.

Effective lumen output is the actual measurement of light output that takes into account thermal/optical loss, and the power level at which the LEDs are being driven. This is accomplished by using high-tech photometry equipment that measures the effective lumen output of a light.


Flood Beam Pattern
Wide light pattern for illuminating close areas at short distance.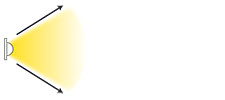 Spot Beam Pattern
Narrow beam of focused light for long range visibility.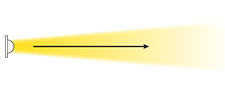 Combo-Beam Pattern
Both Spot and flood beam patterns for illuminating distance, as well as, close areas in one lamp.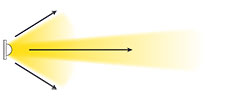 Selectable Multi-Beam
User may select Spot, Flood, or both beam patterns in one lamp.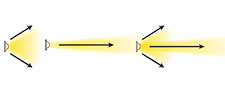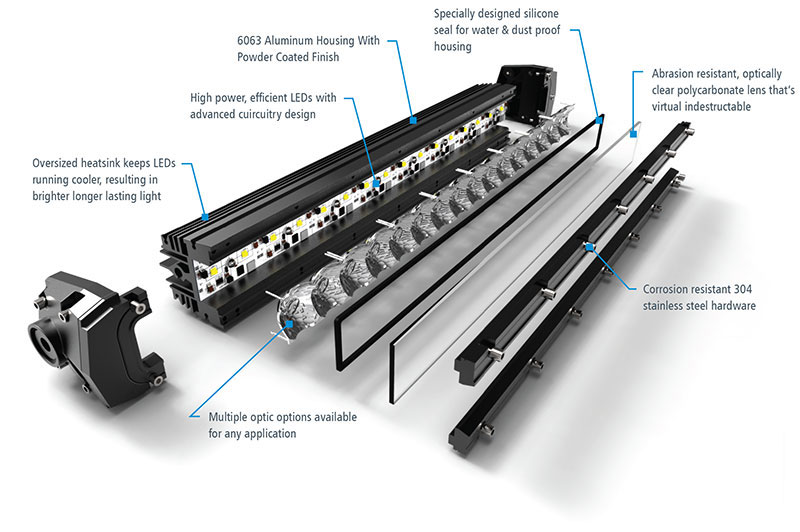 Every light carries the Super Bright LEDs name must meet strict quality standards. Our fully-equipped in-house test lab uses the latest equipment necessary for photometric / electrical testing, long-term lumen maintenance testing, and stress-testing for environmental conditions to ensure our customers receive the highest quality products.
Assault test
Real world use of off-road lights can be brutal. To see just how our lights will respond in the most extreme conditions, and for a little fun, we use assault testing methods to make sure the lights you buy will hold up to the most abusive punishments. Through drilling, cutting, freezing, dropping, crushing, and burning, our lights not only hold up, but continued to operate. These tests have generated such exceptional performance in these products, that we confidently back them with a Lifetime Warranty.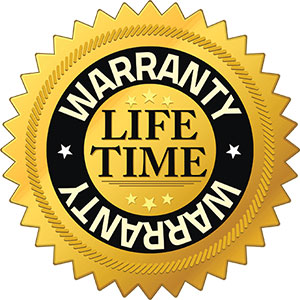 Super Bright LEDs, Inc. warrants that products carrying a Lifetime Warranty will be free from defects in the material and workmanship for the lifetime of the product. If an LED or other internal component fails, return the product to Super Bright LEDs, Inc. for inspection. If, after inspection, Super Bright LEDs verifies that the defect was not caused by negligence, abuse, unauthorized repair or disassembly, we will replace the product with the same product. In the case the exact product is no longer available, a product of equal value may be substituted.