Live Chat
Offline
Email
866-590-3533
Phone Support Hours
8:30 AM to 8:00 PM CST Monday-Thursday
8:30 AM to 4:00 PM CST Friday
Navigation
Site Tools
Account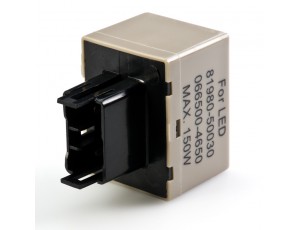 LED Bulb Flasher Unit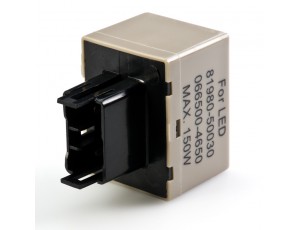 Click to Enlarge
Click to view from all angles
Tap to cycle through images
Tap & Hold for zoomable view
Tap & Hold to view from all angles
CF18-08 LED Bulb Electronic Flasher
Notes
Select options to see various notes.
See Similar Replacement Products
Add to Wishlist
Adding product to your Wishlist

Uh-oh
There was a problem adding this product to your list. Make sure that you have chosen the necessary options (length, color, etc) and try again
If the problem persists, you can contact us directly
SUCCESS
This item was added to your wishlist.
This product has been discontinued.
Order will ship Monday (03/02/2015)
Product Information
Product Description
Electronic LED Flasher Relays have no minimum load-12VDC. Eliminates the need for load resistors, turn signals will flash at normal rate with or without LED bulbs. Use the Flasher Selection Guide to determine the correct Flasher Relay for your vehicle.
Standards and Certifications
Specifications
Clicking Sound
Yes
Polarity Sensitive
Yes
Type
LED Car Flasher
Typical Vehicle Type
Newer Toyotas
Replaces Stock Bulb: FLASHER
Dimensions: 4cm(1.57") x 4.92cm(1.94") x 3.35cm(1.32")

Clicking Sound
Yes
Polarity Sensitive
Yes
Type
LED Car Flasher
Typical Vehicle Type
Newer Toyotas
Replaces Stock Bulb: FLASHER
Dimensions: 4cm(1.57") x 4.92cm(1.94") x 3.35cm(1.32")

Material

Case: Nylon pa6,6 + 15% Black

Base: ABS

Fastons B,L: Cu Ni

Technical Characteristics

Nominal Voltage

Un

12V

Operating Voltage

Uop

11V...15V

Pull-in Voltage

Ui

≤11V@Tp

Test Voltage

Up

13V±0.2V

Test Temperature

Tp

+20°C±2°C

Switch Power

An

0.02A - 15A

Max. Power

Wm

Max. 150W

Flashing Frequency

f

90 TIMES/min±10%

Operating Temperature

Top

-40°C...+80°C

Storage Temperature

Tsto

+100°C/2h

Life Time

200h/Wn
CONTINUOUS/CONTINUOS

Operates Silently

No
Important Notes Concerning LED Flashers
These flashers do not replace all flasher units. Before you order, please see the pin outs of our flashers in the More Info page and compare with the one you are replacing. Click the part numbers for complete specifications. You can usually find your flasher pin out printed right on your flasher. Failure to check this and installation in an incompatible vehicle can blow your fuse, destroy the flasher and void the flasher warranty.

Some of these flashers operate silently, they do not make the familiar clicking sound when operating. One solution is to connect a common automotive relay to the output along with your LED bulbs.
Dimensions in millimeters (inches)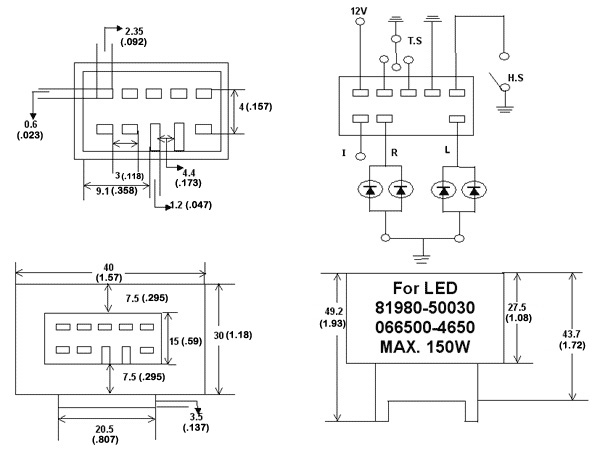 Overall Rating
Total Reviews
3
Tell Us What You Think
Share your own experience and photos of this product. Doing so will help inform other potential buyers and allow us improve our product lines. It may take up to 72 hours for your review to appear.
Sign In Required to Write a Review
Beyond easy!
I looke dinto adding load resistors before finding this little gem, took two minutes and now all of my led's function properly. A true time saver! And it will save you money if you use a lot of led's that need resistors.
---
Perfect for Prius
This is a perfect solution for my all LED signal lights in my Prius. Keeps the same "blink" rate without modifying the stock wiring to add load resistors.
---
its ok
it will mess up your lights on your car.

if you have a 2006 scion tc or later and you keep your lights on after you turn off the car(as they auto shut off when the door is open) and you go to lock or unlock the car. all lights on the outside will blink. headlights tail lights.

but if you turn your lights off it works fine.
Staff Response
Justin,
Thank you for taking the time to send us a review. Customer feedback is very important to us. Sorry that you are having problems with the flasher. When the car is off the CF18-08 has a high resistance in the circuit compared to the stock flasher. So when you leave the light switch on it provides a path of less resistance and causes lights on the headlight circuit to flash. This may be an annoyance but will not harm anything.
---
Report Review as Inappropriate