Super Fast Shipping
We make every effort to ship all orders within 24 hours.
Same-day shipping if order is placed by 2 p.m. Central Time.
Next-day shipping (excluding weekends) if order is placed after 2 p.m.
Monday shipping if order is placed on the weekend.
**An email is sent to confirm that your order has been received and is being processed. Another email will be sent to you with tracking information when your order ships.
Overnight & 2-Day Shipping/Saturday Delivery
Overnight and 2-day shipping options are only available to destinations
within the USA
. Shipments are sent via UPS and are delivered in 1 or 2 business days
(not weekends)
.
If you need
Saturday delivery
, you must
request it
either in our
order form "Comments" box
or by calling us at
(866) 590-3533
. Saturday delivery usually costs about twice as much as normal business day delivery. Quotes are provided upon request.
Live Chat
Offline
Email
866-590-3533
Phone Support Hours
Monday-Thursday: 8:30am - 8pm CST
Friday: 8:30am - 4pm CST
Navigation
Site Tools
Account
Clearance LED Home Lighting
You may also be looking for...
1.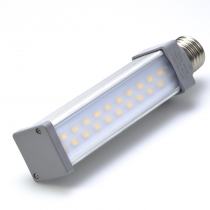 Brightness
Brightness
The brightness of a product in relation to the results.
| | |
| --- | --- |
| This Product | 510 lm |
| Brightest Product in Results | 510 lm |
Total Power Consumption(Max)
E27-xW20-AIM series rotatable LED tube replacement bulb for traditional tubular medium screw base lamps. Consumes 10.5 Watts of power using 20 high power 5730 SMD LEDs.
Clearance Options Available
| Qty | Price Ea. |
| --- | --- |
| 50 - 99 | $13.39 |
| 100 - 499 | $11.90 |
| 500 - 999 | $11.16 |
| 1000 + | $10.42 |

RoHS stands for Restriction of Hazardous Substances. Certain materials used in electronics and electrical products have been deemed hazardous to people and the environment and, therefore, must be limited. For a product to be RoHS compliant, testing must be performed and documented to show limited or no use of cadmium, hexavalent chromium, lead, mercury, polybrominated biphenyls, and polybrominated diphenyl ethers.

Super Bright LEDs, Inc. offers a 2-year warranty to protect against manufacturer defects and malfunctions. If you experience failure of an LED or other component not caused by negligence, abuse, unauthorized repair or disassembly, we will replace the product within the warranty period. If the same product is no longer available, a product of equal value may be substituted.