LED High Bay Lights are commercial/industrial light fixtures designed for spaces with 20-foot ceilings or higher. Ideal applications include warehouses, factories, supermarkets, gyms, retail stores, and more. Easy to install, we offer round or "UFO" high bays and linear high bays to easily replace your existing incandescent, fluorescent, or metal halide HID fixtures.
Efficient and long-lasting LED fixtures reduce energy consumption and operating costs. Instant-on drivers and optional motion sensors increase energy savings and productivity, eliminating warmup time delays and illuminating active areas.

How many and what type of LED high bay do I need for my space?
The number and type of LED high bay lights you will need for your height, area, and location will depend on various factors, such as the height of your ceiling, the size of the space you want to illuminate, and the specific lighting requirements of your location.
Here are some general guidelines to help you get started:
Ceiling Height:

This is crucial in determining the type of light. A low bay light might be more appropriate if your ceiling height is less than 20 feet. For ceiling heights between 20 and 40 feet, an LED high bay light with a beam angle of 120 degrees will likely work. For ceilings higher than 40 feet, you may need an LED high bay with a more narrow beam angle.

Area Size:

The size of the space you need to illuminate will also play a role in determining the number and type of high bay lights you need. A larger area will require more lights, while a smaller space may require fewer lights or lights with lower wattage.

Location:

Your specific location will also impact the type of high bay light you need. For a warehouse or a manufacturing facility, high bay lights with a higher color rendering index (CRI) will allow workers to see colors accurately. If your location is a parking garage, you may need lights with a higher color temperature to enhance visibility.

For more information, contact one of our Commercial Accounts Specialists or see our article on Industrial/Commercial Recommended Lighting Levels.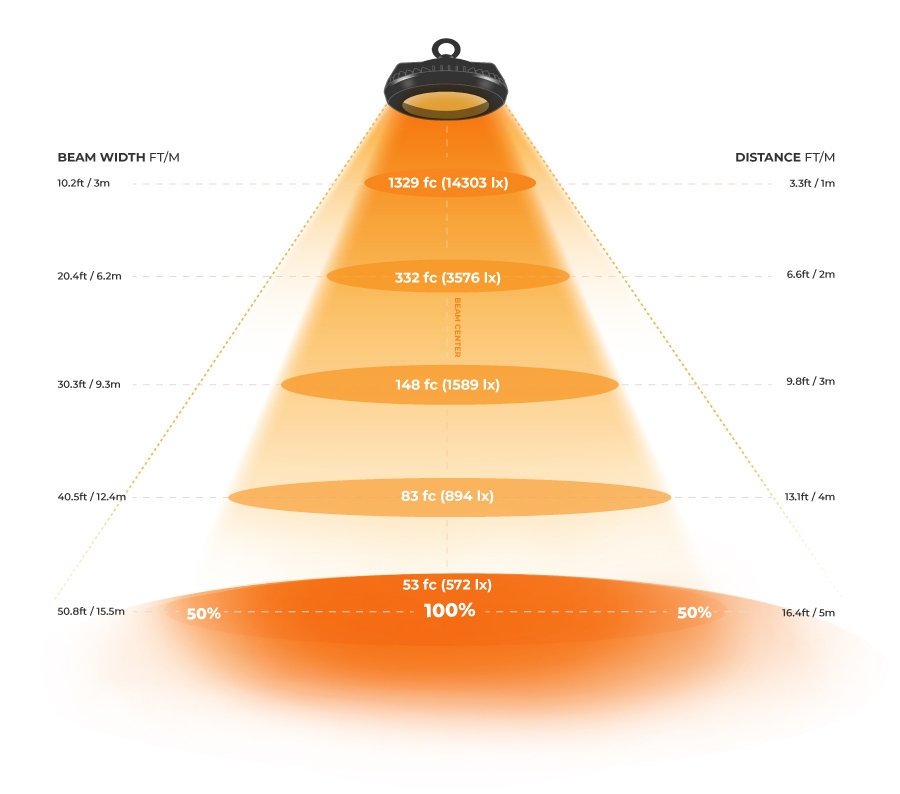 ---
What is a reflector and do I need one for my facility?
A reflector is an accessory that helps focus down light while diffusing spill, reducing shadows and glare. Research finds that glare and shadows cause eye strain, headache, fatigue, and safety issues. Modern LED high bay lights already focus light down more effectively than older metal halide fixtures. Adding reflectors can take your facility's lighting from adequate to ideal.
---
Which LED high bay light should I use, linear high bay or UFO high bay?
When replacing existing fixtures, you may want to match the original style: linear high bay lights or round UFO high bay lights. UFO high bay fixtures offer easy installation, a focused beam, and a low-profile footprint. Linear high bay lights may be more efficient in larger areas or where wider distribution is required.
---
What color temperature do you suggest for my facility?
Our high bays are typically available in 4000K and 5000K. Research shows bright light in this temperature range makes people feel refreshed, alert, and wakeful, delivering increased productivity and enhanced work performance. These color temperature options make our high bay lights superior for work area lighting.
---
Are there benefits of having a polycarbonate lens vs. a glass lens on UFO high bays?
Polycarbonate is a lightweight, durable, and heat-resistant thermoplastic polymer. Polycarbonate is ten times more impact-resistant than standard plastic and over 200 times more than glass. In the unlikely event that a polycarbonate lens was to break, it is also shatterproof, breaking into large, dull-edged pieces for safe disposal.
Glass lenses have a high scratch and UV resistance, not yellowing over time, for continued clarity. Glass is highly chemically resistant and ideal for use in high-temperature corrosive environments.
---
Are the components within the LED high bay light fixture replaceable without replacing the entire fixture?
We test our LED high bay fixtures in-house for reliable performance and back them with a 5-year warranty. We do not recommend that users service these lights. A licensed technician can replace the driver if necessary.
---
Are your LED high bays IP rated for water resistance?
Our LED high bay lights are IP rated. Check the rating in the product specification table to ensure it is rated to meet the needs of your specific location. We have a selection of NSF Compliant LED Food Processing Lights with an IP69K rating, ideal for use in wet locations.
---
Do you have motion sensors for LED high bay lights?
We do have motion sensors available for most of our LED high bay lights. We also have LED high bays with integrated motion sensors. Motion sensors are an excellent way to quickly increase energy efficiency while reducing operating costs and extending product life. See the product page's Accessories & Power Supplies section for compatible motion sensors.
---
Do you offer high-voltage LED high bays?
We offer a range of operating voltages, including 277-480 VAC high voltage. Use the operating voltage range filter on the left of the page to select the voltage range needed for your facility.

---
Do you offer quantity discounts for these products?
We do offer quantity discount pricing. We base our discount tiers on product price and quantity. For more information, see our commercial accounts page or contact us directly.

---
Are LED high bays eligible for rebates?
Many high-efficiency fixtures, especially those with a DLC Premium classification, may qualify for commercial lighting rebate programs. For more details on eligible rebates, please contact your local utility.

---
In what ambient temperature range do LED high bays operate?
Many of our LED high bay fixtures are equipped with integrated heat sinks for effective heat dissipation and have an ambient operating temperature range from -22 to +122°F. Above +122°F, you would need a high-temperature high bay. Check the fixture specifications for the ambient operating temperature range to verify it meets your requirements.