Super Fast Shipping
We make every effort to ship all orders within 24 hours.
Same-day shipping if order is placed by 2 p.m. Central Time.
Next-day shipping (excluding weekends) if order is placed after 2 p.m.
Monday shipping if order is placed on the weekend.
**An email is sent to confirm that your order has been received and is being processed. Another email will be sent to you with tracking information when your order ships.
Overnight & 2-Day Shipping/Saturday Delivery
Overnight and 2-day shipping options are only available to destinations
within the USA
. Shipments are sent via UPS and are delivered in 1 or 2 business days
(not weekends)
.
If you need
Saturday delivery
, you must
request it
either in our
order form "Comments" box
or by calling us at
(866) 590-3533
. Saturday delivery usually costs about twice as much as normal business day delivery. Quotes are provided upon request.
Live Chat
Offline
Email
866-590-3533
Phone Support Hours
8:30 AM to 8:00 PM CDT Monday-Thursday
8:30 AM to 4:00 PM CDT Friday
Navigation
Site Tools
Account
LED Strobe Bulbs
1.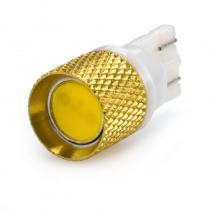 Product Code:
WLED-xHP-STRB
Brightness
The brightness of a product in relation to the results.
| | |
| --- | --- |
| This Product | 47 lm |
| Brightest Product in Results | 47 lm |
T3-1/4 (#194/168) bulb with high power 3-Chip COB LED and integrated strobing function triggered by ON/OFF/ON power cycling. 12 Volt DC operation. Used to draw attention to emergency vehicles.