Navigation
Site Tools
Account
Stick-Up LED Lights
1.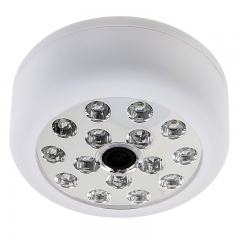 Brightness
Brightness
The brightness of a product in relation to the 1 results.
| | |
| --- | --- |
| This Product | 40 lm |
| Brightest Product in Results | 40 lm |
Special Features
Audio Trigger
,
Battery Operated
These sound-activated lights provide portable or fixed illumination and can be used as party lights, camping lights, music lights, RV interior lights, and more. The battery-operated light has 15 RGB LEDs, and an audio trigger activates dynamic red, green, and blue color changing patterns. Hang the stick-up light with its back-mounted hook, screw holes, or double-sided adhesive (not included). Requires 3 AA batteries (not included).
Show More
In Stock
| Qty | Price Ea. |
| --- | --- |
| 50 - 99 | $8.05 |
| 100 - 499 | $7.16 |
| 500 - 999 | $6.71 |
| 1000 + | $6.27 |

Super Bright LEDs, Inc. offers a 2-year warranty to protect against manufacturer defects and malfunctions. If you experience failure of an LED or other component not caused by negligence, abuse, unauthorized repair or disassembly, we will replace the product within the warranty period. If the same product is no longer available, a product of equal value may be substituted.
Read More

RoHS stands for Restriction of Hazardous Substances. Certain materials used in electronics and electrical products have been deemed hazardous to people and the environment and, therefore, must be limited. For a product to be RoHS compliant, testing must be performed and documented to show limited or no use of cadmium, hexavalent chromium, lead, mercury, polybrominated biphenyls, and polybrominated diphenyl ethers.
Are you having trouble finding something?
Let us know what you were searching for or make a suggestion to help improve our search and product selection.