Panel Indicator Lights
You may also be looking for...
Narrow Results by Base Type
In Stock
Volume price as low as
$

0.80
2.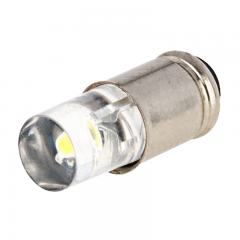 In Stock
Volume price as low as
$

0.85
Are you having trouble finding something?
Let us know what you were searching for or make a suggestion to help improve our search and product selection.
Page 1 of 1
|
1 - 2 of 2 Results
About Panel Indicator Lights
These long-lasting LED lights are bright, reliable replacements for traditional incandescent indicator lights. On average, LEDs last 25 times longer than incandescent lights. This means less maintenance and less down time on the production line. Includes BA9, BA7s, and T2 telephone LED bulbs as well as pre-wired LEDs.