Navigation
Site Tools
Account
LED Wall Packs Lighting
You may also be looking for...
1.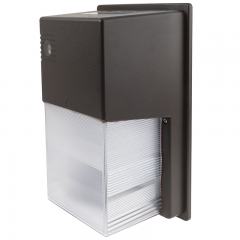 Brightness
Brightness
The brightness of a product in relation to the 1 results.
| | |
| --- | --- |
| This Product | 2400 lm |
| Brightest Product in Results | 2400 lm |
Total Power Consumption(Max)
IP Rating

30 Watt LED Wall Packs provide ample safety and work illumination for loading bays, commercial entry ways, and security lighting, while using a fraction of the energy traditional HIDs require. Equipped with a self contained driver and either 120V AC or 208~277V AC light detecting photocell to conserve energy during the day. Durable weatherproof IP65 rated housing and wide 120° beam pattern. Price for each.
Clearance Options Available


Are you having trouble finding something?