Navigation
Site Tools
Account
LED Wall Packs Lighting
You may also be looking for...
1.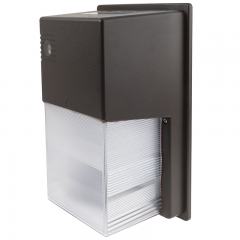 Brightness
Brightness
The brightness of a product in relation to the 1 results.
| | |
| --- | --- |
| This Product | 2300 lm |
| Brightest Product in Results | 2300 lm |
Total Power Consumption(Max)
This mini LED wall pack is great for security lighting, warehouse lighting, entryway lighting, and more. The wall pack emits 2,300 lumens of natural white illumination and operates within a 100-277 VAC range. LEDs in the wall pack emit a 120° beam pattern. This 30-watt wall pack is designed to replace 100- or 175-watt metal-halide (MH) fixtures while lasting twice as long. The LED wall pack comes with a 120 VAC or 208-277 VAC dusk-to-dawn photocell sensor that can extend its life expectancy even further—greatly reducing costly repairs and the need for replacements. A weatherproof aluminum housing and polycarbonate lens guard against damage done by harsh or wet weather conditions, and a watertight removable cover allows for easy access to the driver.
Clearance Options Available

Underwriters Laboratories (UL) LLC is an independent testing agency that works to verify product safety and quality. A UL-Listed label means that product samples have been tested by UL and that the product meets their Standards for Safety requirements.

Super Bright LEDs, Inc. offers a 5-year warranty to protect against manufacturer defects and malfunctions. If you experience failure of an LED or other component not caused by negligence, abuse, unauthorized repair or disassembly, we will replace the product within the warranty period. If the same product is no longer available, a product of equal value may be substituted.
Read More
Are you having trouble finding something?
Let us know what you were searching for or make a suggestion to help improve our search and product selection.