Navigation
Site Tools
Account
LED Sign Modules
1.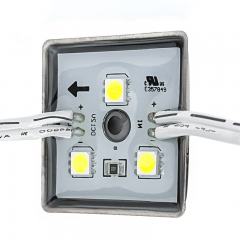 Brightness
Brightness
The brightness of a product in relation to the 1 results.
| | |
| --- | --- |
| This Product | 59 Lm/Module |
| Brightest Product in Results | 59 Lm/Module |
Total Power Consumption(Max)
IP Rating

These single-color LED light modules provide consistent illumination for channel letters, sign lighting, under-cabinet lighting, store window lighting, display case lighting, and more! Customizable quantity strands are created upon purchase (up to 20 modules per strand) and are wired together with 3-19/64" spacing between modules. The 20-gauge wire is polarity sensitive; black striped wire is negative and white wire is positive. Each LED module has 3 bright LEDs (5050 SMD) with an output of up to 59 lumens. LEDs emit a wide 140° beam angle that is best suited for illuminating up to 14" wide channel letters that are as shallow as 3 inches. The low-profile module is made of stainless steel with a 5/32" screw hole for mounting in extreme cold or heat. Double-sided 3M adhesive foam tape is also included for secure mounting. The waterproof module has 12V DC operation and is designed to last 30,000 hours. Available in cool white, natural white, warm white, blue, green, amber, and red.




Are you having trouble finding something?