Dome Light Fixtures
In Stock
Volume price as low as
$

24.25

In Stock
Volume price as low as
$

13.45



3.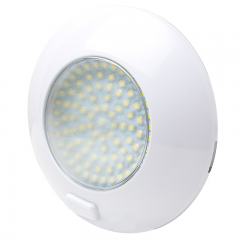 In Stock
Volume price as low as
$

21.55

Page 1 of 1
|
1 - 3 of 3 Results
About Dome Light Fixtures
Illuminate the interior of your RV, camper, boat, truck, or trailer with LED dome light fixtures. These LED lights come in multiple shapes, sizes, and color temperatures to fit different applications within your vehicle. They're available in fixed and aimable fixture options to get light where you want it. Being small in size, these lights are perfect for reading lights, map, door, task, under-cabinet, or accent lighting.