LED Landscape Lighting Kits
1.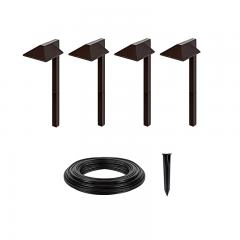 In Stock
Volume price as low as
$

98.96

2.
In Stock
Volume price as low as
$

85.46

Page 1 of 1
|
1 - 2 of 2 Results
About LED Landscape Lighting Kits
Make your outdoor lighting project easy with our hand-selected LED landscape lighting kits. Each kit includes everything you'll need to light up your outdoor space with ease: high-grade fixtures, LED bulbs or integrated LEDs, low-voltage transformers, direct burial wire, and connectors. Our kits feature a variety of fixtures and color temperature combinations, so selecting the right kit is easy for both beginners and professionals. We also provide expansion kits to extend or update your existing landscape lighting system. Every item in our kits has been tested in-house to ensure the highest quality. Our LED landscape lighting kits are backed by a 5 year warranty.