Super Fast Shipping
We make every effort to ship all orders within 24 hours.
Same-day shipping if order is placed by 2 p.m. Central Time.
Next-day shipping (excluding weekends) if order is placed after 2 p.m.
Monday shipping if order is placed on the weekend.
**An email is sent to confirm that your order has been received and is being processed. Another email will be sent to you with tracking information when your order ships.
Overnight & 2-Day Shipping/Saturday Delivery
Overnight and 2-day shipping options are only available to destinations
within the USA
. Shipments are sent via UPS and are delivered in 1 or 2 business days
(not weekends)
.
If you need
Saturday delivery
, you must
request it
either in our
order form "Comments" box
or by calling us at
(866) 590-3533
. Saturday delivery usually costs about twice as much as normal business day delivery. Quotes are provided upon request.
Live Chat
Offline
Email
866-590-3533
Phone Support Hours
Monday-Thursday: 8:30 a.m.-8 p.m. CST
Friday: 8:30 a.m.-4 p.m. CST
Navigation
Site Tools
Account
Emergency Vehicle & Strobe LED Lights
1.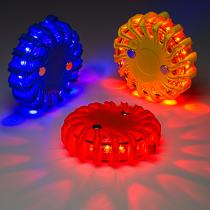 Rechargeable Safety LED Flare Emergency Light with 16 x 5mm LEDs! Features 9 user selectable flashing patterns. Waterproof housing with magnetic base and built-in rechargeable lithium ion battery. Single kit includes usb charger/power cable with cigarette lighter adapter plug, and 100-240VAC charger/power supply. 6-Pack kit includes charger/power cable with cigarette light adapter plug, 100~240VAC charger/power supply, and carrying case charging station. Available in Red, Blue, and Amber.
In Stock
Starting at
$
19.95
$
119.95
ea.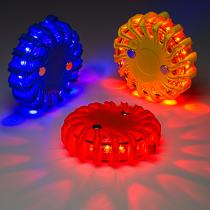 Starting at
$
19.95
$
119.95
ea.
View More Information
2.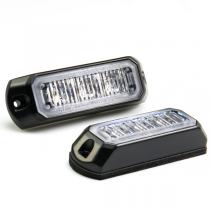 Compact surface mount directional LED strobe lighthead for emergency or law enforcement vehicles, public safety warning and hazard lighting applications. Uses 3 x 1 Watt white, blue, red or amber high power LEDs. Internal controller has 11 strobe patterns that can be synchronized between lightheads -- flash together or flash opposite. Powder coated aluminum heatsink housing with two mounting holes spaced 3" apart. 8" power wires. Applications include marked or unmarked police cars, ambulances, firetrucks, rescue vehicles, water patrol boats, roadside assistance trucks, wreckers and tractors. Dimensions: 8.611cm(3.39") x 1.943cm(0.76") x 2.794cm(1.1"). Includes mounting hardware.
Clearance Options Available
Starting at
$
31.88
$
34.95
ea.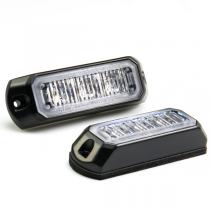 Starting at
$
31.88
$
34.95
ea.
View More Information
3.
Strobe LED replacement bulbs can be used to draw attention to emergency vehicles. They also fit numerous vehicle applications such as dome lights, trunk lights, footwell lights, door lights and courtesy lights. This 194 bulb replaces a variety of traditional bulbs including 194, 168 and 912 bulbs. It has 1 bright, low-heat-yielding LED (3-chip COB) that creates a 120° viewing angle. Miniature wedge base for easy plug-and-play installation. The energy-efficient bulb has 12V DC operation and is designed to last 30,000 hours on your vehicle—25 times longer than incandescents. Available in cool and warm white, blue, green, amber and red. Not sold in pairs. Price per bulb.
Are you having trouble finding something?