Super Fast Shipping
We make every effort to ship all orders within 24 hours.
Same-day shipping if order is placed by 2 p.m. Central Time.
Next-day shipping (excluding weekends) if order is placed after 2 p.m.
Monday shipping if order is placed on the weekend.
**An email is sent to confirm that your order has been received and is being processed. Another email will be sent to you with tracking information when your order ships.
Overnight & 2-Day Shipping/Saturday Delivery
Overnight and 2-day shipping options are only available to destinations
within the USA
. Shipments are sent via UPS and are delivered in 1 or 2 business days
(not weekends)
.
If you need
Saturday delivery
, you must
request it
either in our
order form "Comments" box
or by calling us at
(866) 590-3533
. Saturday delivery usually costs about twice as much as normal business day delivery. Quotes are provided upon request.
Live Chat
Offline
Email
866-590-3533
Phone Support Hours
Monday-Thursday: 8:30am - 8pm CST
Friday: 8:30am - 4pm CST
Navigation
Site Tools
Account
Component LEDs
1.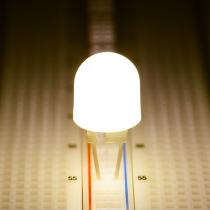 Brightness
Brightness
The brightness of a product in relation to the results.
| | |
| --- | --- |
| This Product | 10 lm |
| Brightest Product in Results | 10 lm |
Viewing Angle

Warm White Super Bright 12mm LED with through holes. Features a 10,000 millilumens and warm white color temperature of 3400K. This unique LED has a diffuser coating which emits Red light in all directions, 360 degrees around, from end and bottom, just like a filament bulb. Component LEDs are sensitive electronic devices and require some knowledge of electronic circuits to operate them. Price listed is per unit, however, bulk discounts are available and are automatically applied to your order. Here at SuperBright LEDs, we strive to provide quality LED technology, great customer service, and superior technical support to our customers for our LED and LED component products. Part number: RL12-WW100-360.
In Stock (Clearance)
| Qty | Price Ea. |
| --- | --- |
| 10 - 99 | $1.33 |
| 100 - 499 | $1.18 |
| 500 - 999 | $1.11 |
| 1000 - 4999 | $1.04 |
| 5000 - 9999 | $0.89 |
| 10000 + | $0.81 |

Super Bright LEDs, Inc. offers a 2-year warranty to protect against manufacturer defects and malfunctions. If you experience failure of an LED or other component not caused by negligence, abuse, unauthorized repair or disassembly, we will replace the product within the warranty period. If the same product is no longer available, a product of equal value may be substituted.
Are you having trouble finding something?