Navigation
Site Tools
Account
Component LEDs
1.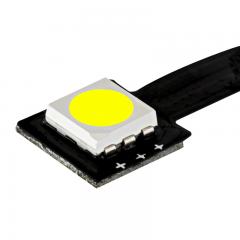 Brightness
Brightness
The brightness of a product in relation to the 1 results.
| | |
| --- | --- |
| This Product | 30 lm |
| Brightest Product in Results | 30 lm |
Wavelength
465 nm
,
595 nm
,
625 nm
,
635 nm
,
520 nm
,
410 nm
,
449 nm
The Little Dot LED Accent Light provides just the right amount of illumination for license plate lights, courtesy lights, door handle lights, costume lights, motorcycle accent lighting, trunk and hatch lighting, and many more applications designed to brighten small spaces. The powerful 3-chip LED (5050 SMD) has an output of up to 15 lumens and emits a wide 120° beam angle. A 3M adhesive backing and a 3' stranded wire allow for secure, easy mounting. The weatherproof LED operates within a wide 9-14.8V DC range and is designed to last 50,000 hours. Available in color-changing RGB, cool, natural, and warm white, pink, UV (blacklight), blue, green, amber, and red. Please note the RGB version automatically cycles through colors and is not externally controllable.

RoHS stands for Restriction of Hazardous Substances. Certain materials used in electronics and electrical products have been deemed hazardous to people and the environment and, therefore, must be limited. For a product to be RoHS compliant, testing must be performed and documented to show limited or no use of cadmium, hexavalent chromium, lead, mercury, polybrominated biphenyls, and polybrominated diphenyl ethers.

Super Bright LEDs, Inc. offers a 2-year warranty to protect against manufacturer defects and malfunctions. If you experience failure of an LED or other component not caused by negligence, abuse, unauthorized repair or disassembly, we will replace the product within the warranty period. If the same product is no longer available, a product of equal value may be substituted.
Read More
Are you having trouble finding something?
Let us know what you were searching for or make a suggestion to help improve our search and product selection.