Live Chat
Offline
Email
866-590-3533
Phone Support Hours
8:30 AM to 8:00 PM CDT Monday-Thursday
8:30 AM to 4:00 PM CDT Friday
Navigation
Site Tools
Account
Cable Coverings
1.
CSL-x series black polyethylene corrugated split looms. Protects and conceal wires, cables, and tubings. Splits down the side to allow covering of pre-installed wiring. Corrugated split looms are available in 1/4", 3/8", 1/2", and 3/4" sizes.
2.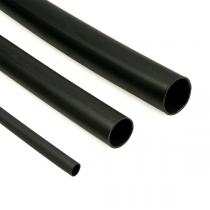 DWS-x series dual wall heat shrink tubing. Available 1/8in, 3/16in, 1/4in, 3/8in, 1/2in, and 3/4in sizes. The sealant flows and encapsulates connections as tubing shrinks.
3.
Eliminates sharp edges and protects wires and harnesses passing through holes in metal plates and panels. Resists up to 35 pounds pull.