Super Fast Shipping!
Orders Ship Today if placed before 2 p.m. CDT,

7 Hours

and

28 Minutes

remaining
Super Fast Shipping
We make every effort to ship all orders within 24 hours.
Same-day shipping if order is placed by 2 p.m. Central Time.
Next-day shipping (excluding weekends) if order is placed after 2 p.m.
Monday shipping if order is placed on the weekend.
**An email is sent to confirm that your order has been received and is being processed. Another email will be sent to you with tracking information when your order ships.
Overnight & 2-Day Shipping/Saturday Delivery
Overnight and 2-day shipping options are only available to destinations
within the USA
. Shipments are sent via UPS and are delivered in 1 or 2 business days
(not weekends)
.
If you need
Saturday delivery
, you must
request it
either in our
order form "Comments" box
or by calling us at
(866) 590-3533
. Saturday delivery usually costs about twice as much as normal business day delivery. Quotes are provided upon request.
Live Chat
Offline
Email
866-590-3533
Phone Support Hours
8:30 AM to 8:00 PM CDT Monday-Thursday
8:30 AM to 4:00 PM CDT Friday
Navigation
Site Tools
Account
Cable Coverings
1.
CSL-x series black polyethylene corrugated split looms. Protects and conceal wires, cables, and tubings. Splits down the side to allow covering of pre-installed wiring. Corrugated split looms are available in 1/4", 3/8", 1/2", and 3/4" sizes.
2.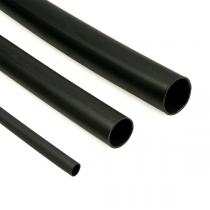 DWS-x series dual wall heat shrink tubing. Available 1/8in, 3/16in, 1/4in, 3/8in, 1/2in, and 3/4in sizes. The sealant flows and encapsulates connections as tubing shrinks.
3.
Eliminates sharp edges and protects wires and harnesses passing through holes in metal plates and panels. Resists up to 35 pounds pull.