Navigation
Site Tools
Account
Bayonet Base Bulbs
1.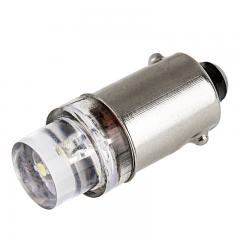 Brightness
Brightness
The brightness of a product in relation to the 1 results.
| | |
| --- | --- |
| This Product | 3.5 lm |
| Brightest Product in Results | 3.5 lm |
Oversize
Oversize
Some LED bulbs are physically larger than standard bulbs with the same base type.
We currently provide full dimensional drawings and list the dimensions of each bulb on the More Info pages.
We always recommend checking our bulb dimensions and comparing with the space available where the bulb will be installed.
---

Total Power Consumption(Max)
LED replacement bulbs can fit numerous boat and RV applications such as vanity lights, map lights, footwell lights, dashboard lights, instrument cluster lights, gauge lights and indicator lights. This BA9s single-contact LED bulb replaces a variety of traditional bulbs including 1445 and 17053 bulbs. It has 1 LED that emits a 90° or wide 120° viewing angle. Produces up to 8.5 lumens at 3200K or 7000K. 9-mm Miniature bayonet base for easy plug-and-play installation—just twist to lock in place. The energy-efficient bulb has 12V DC operation and is designed to last 30,000 hours on your motorhome or boat—25 times longer than incandescents. Available in cool white, warm white, blue, green, amber and red. Not sold in pairs. Price per bulb.

Super Bright LEDs, Inc. offers a 2-year warranty to protect against manufacturer defects and malfunctions. If you experience failure of an LED or other component not caused by negligence, abuse, unauthorized repair or disassembly, we will replace the product within the warranty period. If the same product is no longer available, a product of equal value may be substituted.

RoHS stands for Restriction of Hazardous Substances. Certain materials used in electronics and electrical products have been deemed hazardous to people and the environment and, therefore, must be limited. For a product to be RoHS compliant, testing must be performed and documented to show limited or no use of cadmium, hexavalent chromium, lead, mercury, polybrominated biphenyls, and polybrominated diphenyl ethers.

In order for certain products within controlled categories, such as electrical and electronic devices, to be legally sold in the European Economic Area, they must bear a CE label, which stands for Conformité Européenne (European Conformity). Products with this label meet environmental, health, and safety standards put into place by European legislation.
Are you having trouble finding something?