Super Fast Shipping!
Orders Ship Today if placed before 2 p.m. CDT,

4 Hours

and

26 Minutes

remaining
Super Fast Shipping
We make every effort to ship all orders within 24 hours.
Same-day shipping if order is placed by 2 p.m. Central Time.
Next-day shipping (excluding weekends) if order is placed after 2 p.m.
Monday shipping if order is placed on the weekend.
**An email is sent to confirm that your order has been received and is being processed. Another email will be sent to you with tracking information when your order ships.
Overnight & 2-Day Shipping/Saturday Delivery
Overnight and 2-day shipping options are only available to destinations
within the USA
. Shipments are sent via UPS and are delivered in 1 or 2 business days
(not weekends)
.
If you need
Saturday delivery
, you must
request it
either in our
order form "Comments" box
or by calling us at
(866) 590-3533
. Saturday delivery usually costs about twice as much as normal business day delivery. Quotes are provided upon request.
Live Chat
Offline
Email
866-590-3533
Phone Support Hours
8:30 AM to 8:00 PM CDT Monday-Thursday
8:30 AM to 4:00 PM CDT Friday
Navigation
Site Tools
Account
Bare Circuit Boards
1.
LED Bare Circuit Board. 3 series circuits in parallel, has places for nine 5mm LEDs and three 1/4 watt resistors. Power connections at both ends for daisy chaining. Measures 4-1/2 x 1/2 inch, no documentation included.
2.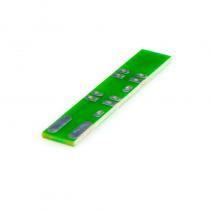 Bare Circuit Board. Add LEDs to create your own custom colors. Has pads for Four 5mm LEDs and One 1/4 Watt resistor. Mesures 1-3/4 x 3/8 inch, fits standard 194 size wedge base socket.