10 Inch LED Can Lights
1.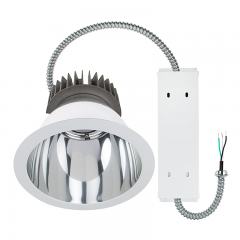 In Stock
Volume price as low as
$

55.96
Are you having trouble finding something?
Let us know what you were searching for or make a suggestion to help improve our search and product selection.
Page 1 of 1
|
1 - 1 of 1 Results
About 10 Inch LED Can Lights
Mount these powerful, energy-saving LED can lights in commercial ceilings independently or in existing 10-inch cans. They're easy to install with included spring retaining clips and come with integral AC whips for direct wiring. They're also IC rated, which means they can come into contact with insulation. They provide ample light for retail stores, auditoriums, office buildings, and more.