Super Fast Shipping!
Orders Ship Today if placed before 2 p.m. CDT,

11 Hours

and

37 Minutes

remaining
Super Fast Shipping
We make every effort to ship all orders within 24 hours.
Same-day shipping if order is placed by 2 p.m. Central Time.
Next-day shipping (excluding weekends) if order is placed after 2 p.m.
Monday shipping if order is placed on the weekend.
**An email is sent to confirm that your order has been received and is being processed. Another email will be sent to you with tracking information when your order ships.
Overnight & 2-Day Shipping/Saturday Delivery
Overnight and 2-day shipping options are only available to destinations
within the USA
. Shipments are sent via UPS and are delivered in 1 or 2 business days
(not weekends)
.
If you need
Saturday delivery
, you must
request it
either in our
order form "Comments" box
or by calling us at
(866) 590-3533
. Saturday delivery usually costs about twice as much as normal business day delivery. Quotes are provided upon request.
Live Chat
Offline
Email
866-590-3533
Phone Support Hours
8:30 AM to 8:00 PM CDT Monday-Thursday
8:30 AM to 4:00 PM CDT Friday
Navigation
Site Tools
Account
Notes Concerning Conversion to LED Car bulbs
PLEASE READ BEFORE ORDERING LED CAR BULBS
| | |
| --- | --- |
| | Which Color LEDs should I use? |
For best results the LED color should be the same as the lens color or if bulb is behind a clear lens, use the appropriate color for turn and brake light functions. As an example: a red lens will filter out all but the red portion of the light so if the light is all red, none or very little light will be blocked by the lens. The light from a White LED contains very little light in the red portion of the visible spectrum so most of the light would be filtered out by a red lens.


LED brake/tail lamps will not flash with thermal flasher units due to their extremely low current draw. Also, with stock flasher units, the turn signals may flash faster than normal (Hyper-Flash) or trigger bulb-out indicator on dash. Some vehicles will also disable the cruise control system if a brake light bulb is being indicated as bad. These installations will require an electronic flasher unit, available in our car bulb shopping category (for some vehicles) or at your auto parts store. Flashers designed to work with LED bulbs will often say "LED compatible". HEAVY DUTY flashers may also work with LED bulbs.

We offer LED Flashers and can determine compatibility for most vehicles in our Flasher Finder. If we cannot determine compatible flashers for your vehicle, you will have to compare the pin-out of your flasher with the pin-outs of the flashers we offer, to see if we have a match, BEFORE you order one.

Another fix is the installation of Load Resistors which are wired across (in parallel with) the turn signal bulbs to simulate the load of a standard filament bulb. We also have these available in our car bulb shopping category
Standard LED bulbs are generally not as bright as standard incandescent bulbs, they have many advantages over filament bulbs (longer life, faster on/off times, lower power consumption, more vivid colors) but brightness is not one of them. They are generally not as bright but some of them with large numbers of LEDs, will appear brighter than filament bulbs. As an exception, our High Power LED car bulbs are as bright or brighter than most standard filament car bulbs. The light is distributed differently so they can appear brighter in some applications and not as bright in others, it depends on the size and shape of the bulb housing and reflector.

Most LED bulbs emit light like a flashlight, all out the end. Regular filament bulbs emit light from the end and all sides, so they will be better suited for some lighting applications than LED bulbs. This is the same reason why we do not rate LED car bulbs in lumens or watts, the numbers would be deceptively low because the light is measured from all sides and the end on standard filament bulbs but only from the end on LED bulbs.
| | |
| --- | --- |
| | Note for miniature wedge base bulbs |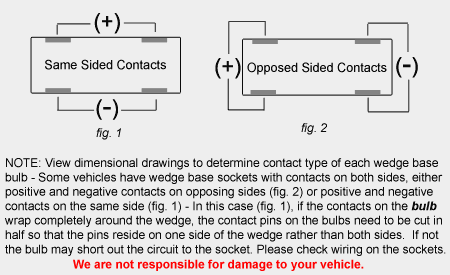 What is the difference between

Warm White

and

Cool White

?
Warm white and cool white have two different correlated color temperatures which are measured in Kelvin. Warm white (2500K~4000K) resembles incandescent light bulbs, cool white (5000K~8000k) resembles fluorescent light bulbs.
Our 18 and 45 SMD LED Tower bulbs are by far the brightest we offer. Some of our bulbs are available with 12, 19, 24 or 30 Standard LEDs, the more LEDs they have, the brighter they are. Filtering and sorting by Brightness will allow you to easily compare bulb brightness.
All of our Tail/Brake lights are the standard one inch diameter except for the 30-LED units. They are 1-5/8 inch diameter so please measure to make sure they will fit in your housings. All of our car bulb types have a "more info" button near them, click these buttons to see dimensional drawings and other specifications.
Some of our bulbs are available with Narrow or Wide viewing angle. The Wide angle (approx. 100 degree beam) will light up more area but dimmer than the Narrow angle. The Narrow angle (approx. 15 degree) will illuminate a smaller area but brighter than the Wide angle. We also offer bulbs with some LEDs aiming out the end of the bulb and some radially mounted LEDs aiming out the sides of the bulb. These will provide a more complete and even light pattern on the vehicle lens.

We cannot recommend which type would work best in your vehicle because it depends on the size, shape and depth of your bulb housings. The Wide angle bulbs usually work best for most vehicles.
All of our Tail/Brake bulbs achieve dual intensity modes by turning all of the LEDs on dim or all of the LEDs on bright, all of the LEDs are always lit when either mode is active.
Yes, LED bulbs will dim with your dash light intensity control.
Do not use LED bulbs in the same housing with head lamps, the heat will cause them to fail quickly and void the warranty. We warrant all of our bulbs for two full years when if used in normal vehicle applications. We do not warrant our car bulbs when used in applications other than normal vehicle bulb installations or if used in headlamp housings or to replace GM Daytime Running Lights

Some GM vehicles apply a pulsed voltage to the Daytime Running Lights (DRL), this pulsed voltage causes LED bulbs to fail quickly, just as the stock filament bulbs also fail quickly in these DRL installations. Use in these applications voids the warranty.
Select your vehicle from the side navigation on the LED Car Bulbs homepage. Bulbs specfic to your vehicle will then be selectable by location.
Please do not email or call us with this question, we will just refer you to the vehicle bulb finder.
Note that our bulbs are sold individually, not in pairs.
For aftermarket use. May not comply with SAE or U.S. DOT standards
Warranty void if used in applications other than standard automotive replacement bulbs
All product specifications are subject to change without notice

You may share your photos of our products in use with us by visiting our contact page.
Make sure "Share Your Application Photo(s)" is selected.