What Is Needed For Installation of RGB LED Strips and RGB LED Light Bars?
|
So you've been thinking about doing a project using LED Strip Lights and/or LED Bars but you're not sure where to start? We have a few tips that might be of help! Whether you're installing bar lighting, ceiling cove lighting, under cabinet lighting, or anything else, use our handy guide to help you determine which products are right for your project!
As always, our technical support is available Monday-Thursday, 8:30 am to 8:00 pm CST & Friday, 8:30 am – 4 pm CST to help you with any of your installation questions or to direct you to the correct products.
Not familiar with our light strips? Check out our video below!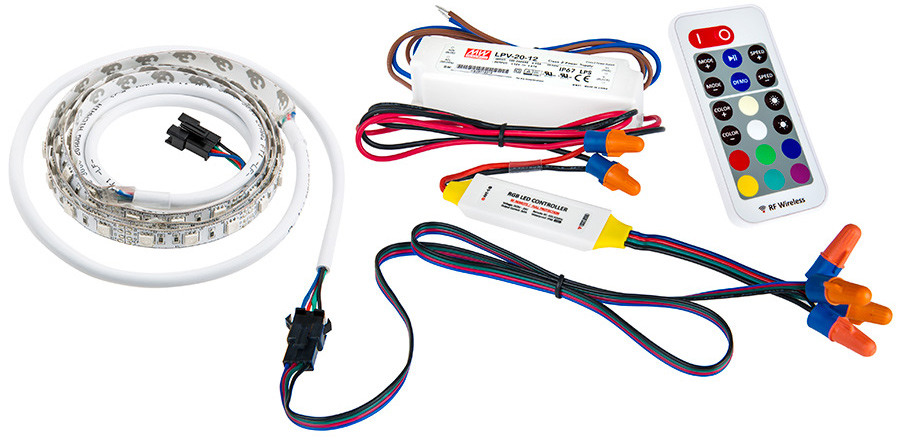 Required Materials:
RGB Light Strip or Light Bar
Controller
Power Supply
Optional Materials:
Amplifier
Wiring
Connectors
Useful Links:
How To Install an LED Light Bar
How To Power Your RGB LED Light Strip
How To Install an RGB Light Strip w/ Amp
LED Light Strips and Light Bars
Choosing the Correct Bar or Strip
We offer a wide variety of RGB Light Bars and Light Strips that are sure to fit your needs. However, it is important you choose the correct model for your application. Some factors to consider while choosing an RGB bar or strip:
How much light output do you require?
If you're looking for accent lighting, a soft glow of color would most likely be sufficient. However, if you plan on using your bar or strip for task lighting as well, you will want a model that provides the most light output for maximum effect.
Flexible or Rigid?
Anything rounded would require a flexible strip, whereas a rigid light bar would be useful for straight surfaces.
| | |
| --- | --- |
| Flexible LED Light Strip | Rigid LED Light Bar |
Do you require use of a True White?
The white that some RGB light strips put out is different than a true LED white. If you're looking to use your strip or bar for task lighting, a model with true white capabilities is recommended.
| | |
| --- | --- |
| White produced by an RGB LED Strip | White produced by an RGB+W (True White) LED Strip |
Choosing a Controller or Dimmer
All of our bars and strips require a controller or RGB-capable dimmer. We offer several different types that perform various functions:
Infrared (IR) remotes and controllers use light to communicate between the remote and the controller. They require a line of sign to operate the destination device, which means they have a more or less limited operating angle. IR remotes are best utilized for projects you will be in close proximity to.
Radio Frequency (RF)
Radio remote control (RF) is used to control distance objects using a variety of radio signals. RF remotes typically have a larger operating angle, meaning the remote will work from farther away.
DMX
Digital Multiplex (DMX) controllers are a great way to controll multiple light sources at once. Although they are the industry standard for stage and theatre lighting, they are becoming increasingly popular in "smart" homes, allowing people to closely control light useage.
RGB Dimmer
Our RGB Dimmers allow you to create custom colors on your RGB light strip with ease using knobs or a dial.
Choosing a Power Supply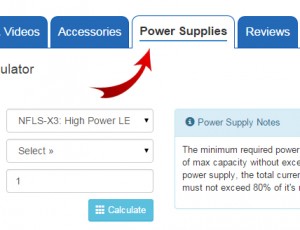 We offer a wide selection of power supplies, including battery packs for on-the-go use, to suit your needs. For your convenience, a *Power Supply Calculator is located under the Power Supplies tab on any light bar or light strip's product page.
*Note: The minimum required power supply has the highest percent of max capacity without exceeding 80%. When selecting a power supply, the total current draw of the attached products must not exceed 80% of it's max capacity.

Optional Accessories
Depending on your project, you may find you need additional components. For example:
RGB Amplifiers are utilized when the length of your light strip exceeds the maximum single run of the strip. Controllers can only control so many LEDs before the connection is lost, so RGB Amplifiers boost the signal controlling the strip by amplifying the signal to the next strip(s).
RGB Connectors are needed when a RGB strip has been cut at one of the cut lines.
RGB Wiring is required when connecting two or more full strips or bars, and is connected via soldering.
Ready for Installation?
Check out a few of our video and blog tutorials below before you get started to ensure a correct installation. For further assistance, our technical support is available Monday-Thursday, 8:30 am to 8:00 pm CST & Friday, 8:30 am – 4 pm CST to help you with any of your installation questions or to direct you to the correct products.