Slim LED Panel Lights for Custom Backlit Signs and Artwork
|
We're excited to announce that we now offer Printed LED Panel Lights for custom backlit signs, trade show and exhibition displays, product advertisements and branding, mobile displays, logos, and so much more! Our user-friendly panel building tool lets you configure a panel in four easy steps. Simply choose your ideal panel size, upload or select an image, edit your image, and choose a frame. You'll be able to see your panel as a finished product with all chosen options. Compatible accessories will be listed before you reach the checkout page.

There are many aspects of our Printed LED Panel Lights that make them unique. Check out the information below to see why they're so special.
A Panel for Any Application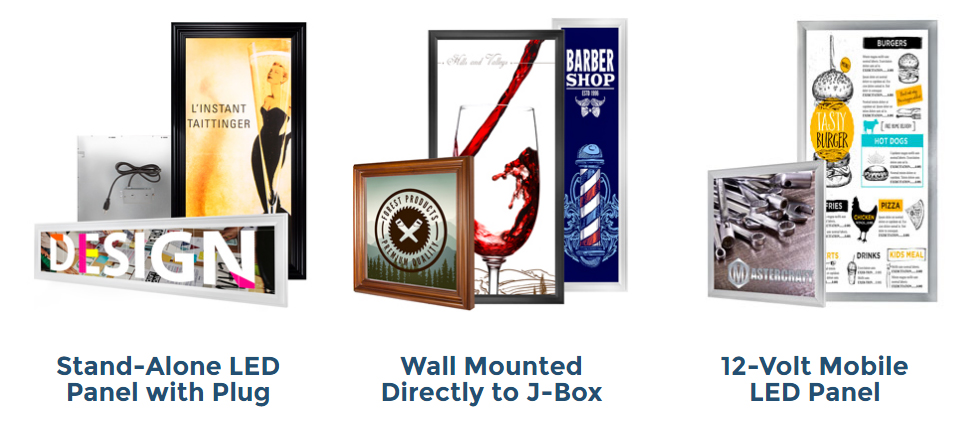 We offer three types of panels: wall-mount, stand-alone, and 12-volt. These LED panel lights are available in a variety of sizes and are designed specifically for their intended applications.
Wall-mount LED panel lights include a mounting plate for surface installations and are designed to be wired to a junction box. These panels are perfect for restaurant and bar signs, trade show and exhibition displays, airport signs, retail advertising signs, backlit art displays, and other applications where wall signage is needed. Wall-mount panels are available in 2′ x 2′ and 2′ x 4′ sizes as well as 1′ x 4′ sizes for panoramic displays.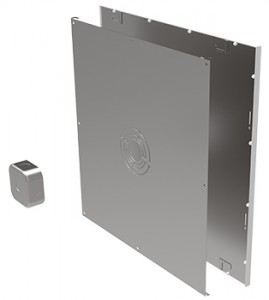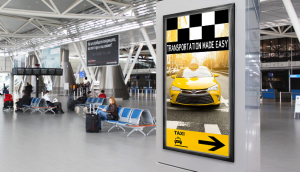 Stand-alone panels come with a plug and a wire enclosure box. They can be used almost anywhere for any purpose from backlit signs for product showcasing and branding to window signage and custom logo displays on desks and shelves. These panels are available in 2′ x 2′, 2′ x 4′, and 1′ x 4′ sizes.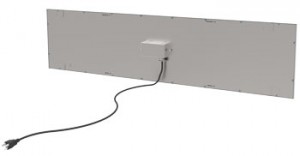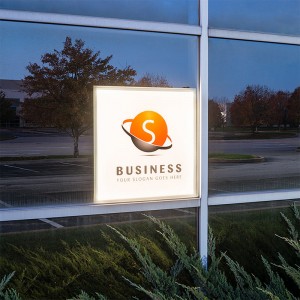 Twelve-volt LED panel lights are a plug-and-play option for interior mobile displays, trade shows, experiential marketing, demo trailers, and booth signs. Simply connect them to a 12-volt power supply and plug into a standard outlet, or wire them directly into your vehicle's 12-volt system. They're available in 1′ x 1′ or 1′ x 2′ sizes and are perfect for illuminating team logos, product ads, or menus.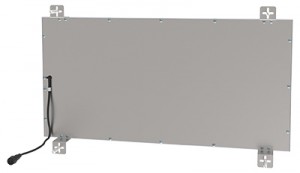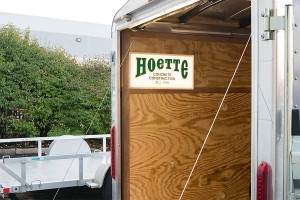 LUXART® Images

You can create a custom panel using a high-resolution image of your choice, or you can choose from our library of more than 1 million stock images. Your LUXART® image is printed directly on the panel light's diffuser for optimum clarity and quality. UV-resistant ink is used in the printing process to prevent fading.
Even-Glow® Technology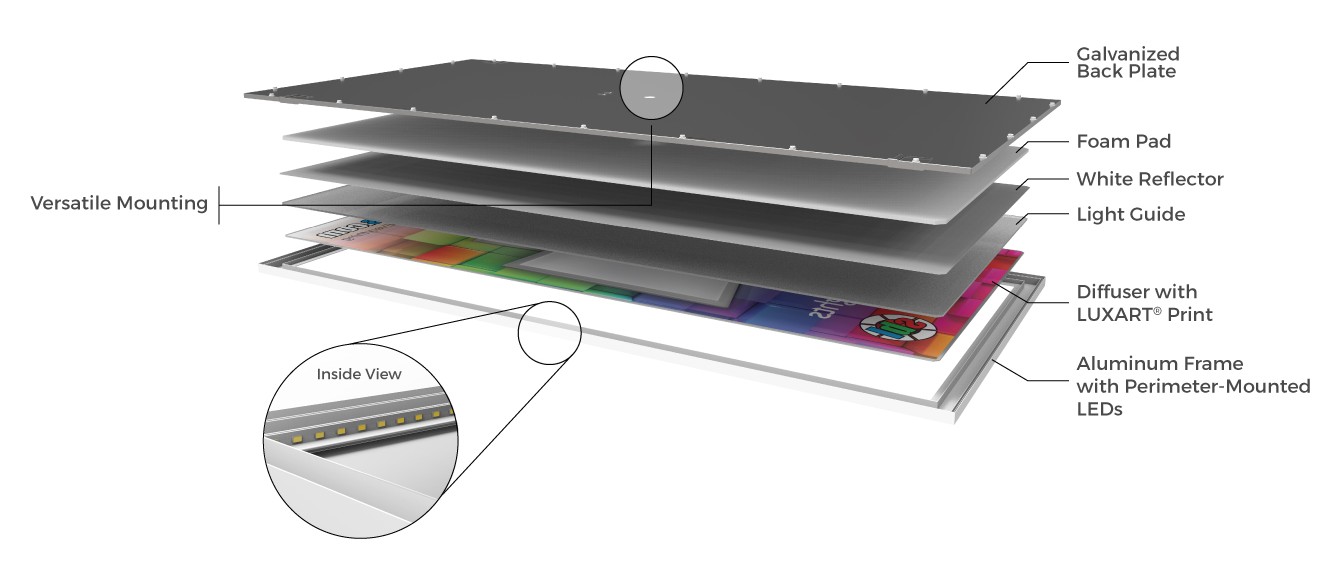 Powerful perimeter-mounted LEDs work hand-in-hand with the panel's light guide plate and an optical diffuser to emit a smooth, even glow. Unlike fluorescent and incandescent light boxes, there are no visible bulbs or hot spots (bright areas of light) that show through the diffuser. Each panel, in its aluminum housing, measures just under 3/4 inches thick. The low-profile LED panel lights are a new-age alternative to traditional bulky light boxes.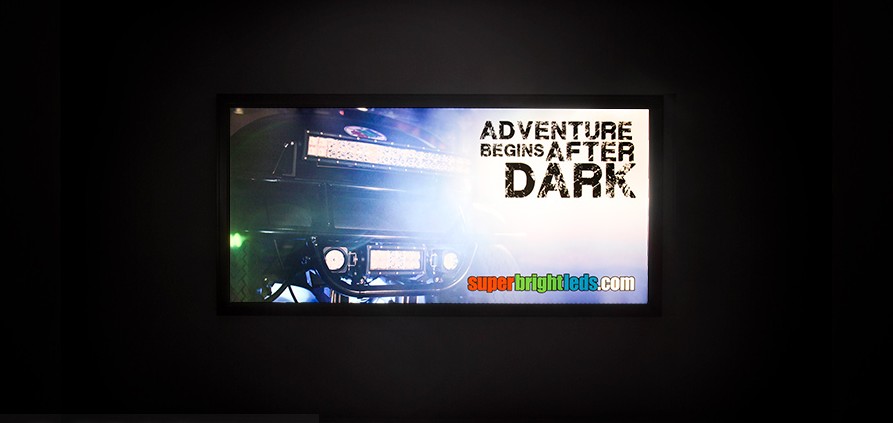 Decorative Framing

Several frame styles are available to enhance the look of your panel. After you've chosen your image, you will be prompted with frame choices that vary depending on the size of your panel. Options include white, black, or silver aluminum housings and black-painted, walnut-stained, or unfinished wood that can be painted or stained to match any decor. Our wood frames are handcrafted from poplar and are designed to fit snugly over 2′ x 2′ and 2′ x 4′ LED panel lights.

Additional Diffusers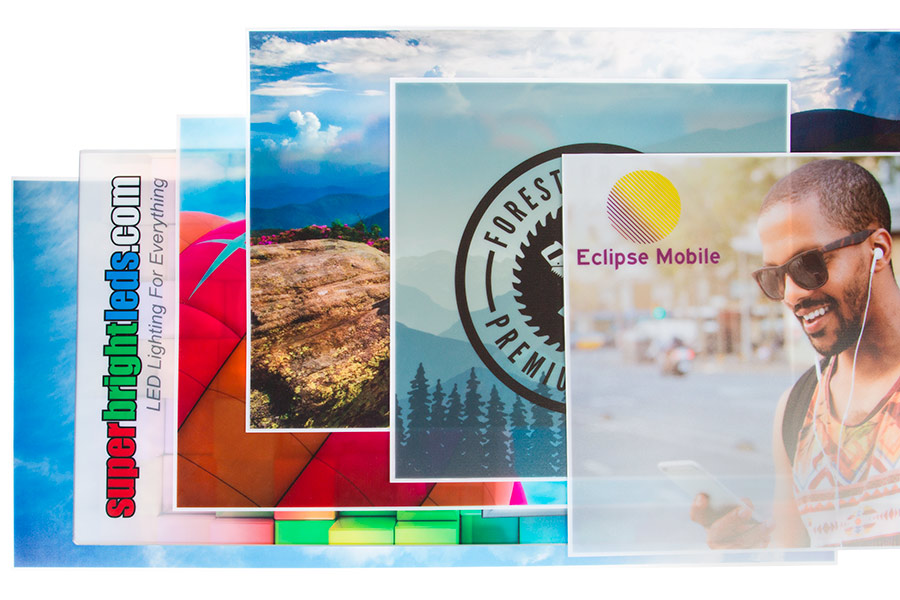 Extra diffusers are available for most panel sizes so that you can change up your backlit signs or displays without having to buy a new LED panel light. Like with our panels, you can upload your own image or choose one from our extensive image library. Each image is printed directly on the diffuser.
If you have questions, don't hesitate to call us toll free at 866-590-3533. Our customer service and technical support teams are available from 8:30 a.m. to 8 p.m. CDT Monday-Thursday and 8:30 a.m. to 4 p.m. CDT on Friday.