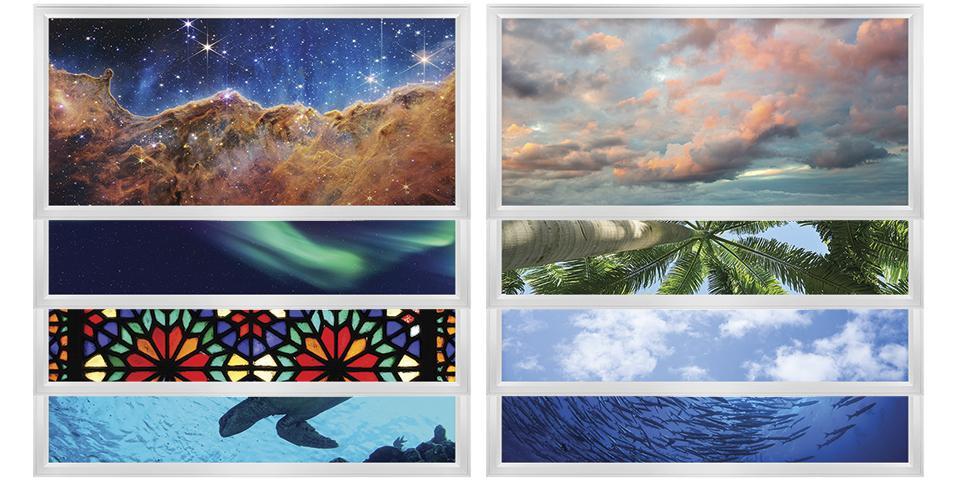 LED Skylights: Bring the Outdoors Inside!
Our Skylens® LED Skylights, or virtual skylights, are vibrant customizable light fixtures that bring interest to waiting areas, conference rooms, hospitals, schools, and more. These energy-efficient skylight alternatives feature anything from sky images with clouds, rainbows, or palm trees to ocean life and night sky images. You can even upload your own image for a custom design. Using edge-lit LEDs and light guide plates, the Even-Glow® Skylights emit smooth illumination through images with no visible bulbs or hot spots.
Upgrade existing troffer lighting with an LED skylight from our LED Skylens® Collection. These LED panel lights are an easy alternative to traditional window skylights. Each skylight is printed by our in-house professionals, ensuring a quality print. The LED skylights can be easily installed in drop ceilings or surface mounted on ceiling junction boxes.
Benefits of LED Skylights
Mental Benefits of LED Skylights
LED lights can provide mental health benefits such as reducing stress and anxiety. Using LED Skylights or virtual skylights in residential, commercial, office, and medical settings can elevate mood.
LED lights can improve focus and productivity. By utilizing LED Skylights, you can provide a comfortable environment with lighting that can resemble daylight with the added benefit of beautiful imagery overhead.
Physical Benefits of Virtual Skylights
By utilizing our LED Skylens virtual skylights, you can help reduce fatigue and eye strain from glare.
LED Skylens® Collection Options
These dimmable LED Skylights are available in 2x2 and 2x4 foot versions that can be either flush mounted or mounted in drop ceilings.
Simply swap out existing troffer lenses with one of our printed panels using our Troffer Replacement Lenses!
We also offer 2x2 and 2x4 foot tunable white LED skylights for drop ceilings. These panels have adjustable white color temperatures from 2700K-5000K that can be controlled with a remote. With the beneficial ability to mimic natural daylight cycles, they're great for offices, schools, hospitals, basements, and more. Once you've selected your desired color temperature of white, you can also use the remote to dim our LED Skylights.
For a truly eye-catching display, we offer multi-panel LED Skylight systems where images are split across several panels. You can choose from select sky designs, upload your own image, or search through our inventory of stock images. Depending upon the multi-panel product you choose, layout or custom-configuration options are available.
Mounting Types for LED Skylights
We offer multiple options for mounting and installing our virtual LED skylights to fit your needs. Whether you need the full setup or just a replacement lens for your existing troffers, we have options for you.
These LED skylights are designed to be mounted in suspended drop ceilings. Each panel light has a rear-mounted driver box.
These skylights can be mounted on the surface of a ceiling or wall. A surface-mount bracket is included with each light for attaching to recessed junction boxes.