LED Street Lights and Security Lights: A Crime Reducing Investment
|
When it comes to crime, it's evident that there's an appeal to darkness. Less visibility means less chance of getting caught. The 2014 National Incident-Based Reporting System (NIBRS)—an annual Uniform Crime Reporting (UCR) Program publication that's released by the FBI—includes detailed crime data, such as time of day and type of offense. More than 18,000 law enforcement agencies participate in the UCR Program and provide data voluntarily. NIBRS' Crimes Against Persons data shows that of the 1,093,466 incidents reported in 2014, 562,104 (51.4 percent) were between the hours of 6 p.m. and 6 a.m. Crimes Against Property data shows a lower—yet significant—39.4 percent of 3,493,904 reported incidents taking place between those same hours.
In an attempt to lessen crime and increase energy savings, many cities and businesses have started replacing traditional high-intensity discharge (HID) lights with LED bulbs, light engines, and fixtures. These actions have paid off. In 2008, Los Angeles began a project to retrofit 215,000 lights with LED lights. Since implementation of the project, Forbes magazine reports that "L.A. already has seen a reduction in crime. Offenses such as burglaries and vandalism have fallen 10 percent between 7 p.m. and 7 a.m. . . ."
In addition to the possibility of reduced crime rates, energy savings is a huge factor for cities considering switching to LED lights. LEDs consume less than half the power that an HID fixture would use. Even with less power consumption, the fixtures emit better quality light with higher color-rendering indexes (CRI) than HID fixtures. CRI refers to how accurately a light source reveals the true colors of objects, people, and surroundings. The CRI of an HID bulb can range from zero (high-pressure sodium) to about 65 (metal-halide). LED fixtures are capable of having CRIs of 75 and higher. Lights with a CRI of 80 or higher are considered to show colors most accurately and increase visibility, which is especially important for security purposes and parking lot surveillance.

LED fixtures also deliver uniform, focused light with less glare. HID fixtures emit multidirectional light that is often wasted on undesired areas. Because of the crisp color, improved visibility, and focused, uniform beam patterns, LED lights appear brighter than their HID counterparts. Brighter, crisper light can not only help prevent crime at night, but it can also aid in identifying a criminal or clearly viewing criminal activity on video or in person.
There are numerous types of LED lights that can be used to replace or retrofit traditional security or area lights:
Security lighting and safety lighting above garages, in alleyways and stairways, on building entrances, and under eaves or carports

Single-, two-, or three-head fixtures

Aimable passive-infrared (PIR) sensors activate light heads if motion is detected within an adjustable range

Built-in timer

Dusk-to-dawn photocell sensors ensure that light heads only illuminate at night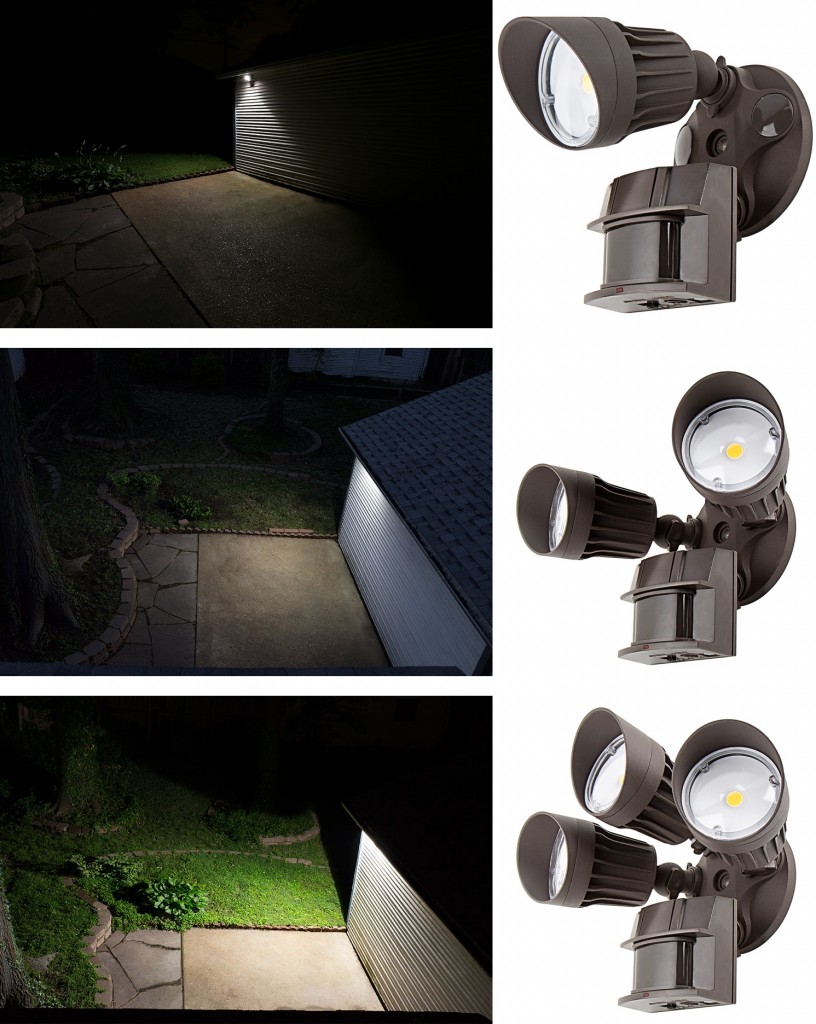 Parking lots, roadways, car dealerships, campuses, parks, etc.

Select fixtures available with dusk-to-dawn photocell sensors

Mounted on existing poles




Security lighting, warehouse lighting, indoor stadium lighting, gas station lighting, etc.

Full- and semi-cutoff designs

Select fixtures available with dusk-to-dawn photocell sensors




Security lighting, parking garage lighting, gas station lighting, low-bay warehouse lighting, drive-thru lighting, tunnel lighting, train stations, and covered walkways

Recessed- and surface-mount fixtures

Select fixtures available with dusk-to-dawn photocell sensors


LED corn light bulbs with mogul or E26/E27 screw bases

Used in parking lot lights, outdoor post lights (post top lights) with weatherproof housings, canopy lights, and parking garage lights



Retrofit light engines

Used to replace HID bulbs in high- and low-bay industrial applications, such as parking lot lights, canopy lights, wall pack lights, and parking garage lights

Can also be wall or ceiling mounted as a standalone fixture


If you have questions, don't hesitate to call us toll free at 866-590-3533. Our customer service and technical support teams are available from 8:30 a.m. to 8 p.m. CDT Monday-Thursday and 8:30 a.m. to 4 p.m. CDT on Friday.