LED Filament Bulbs vs. Incandescent Filament Bulbs
|
Technology

 Incandescent
bulbs produce light when a wire filament heated to a high temperature by an electric current passing through it until it glows – this is known as
incandescence
.

 LED Filament Bulbs utilize typical LED energy-saving technology, except the LEDs are arranged in a way to look similar to incandescent filament bulbs.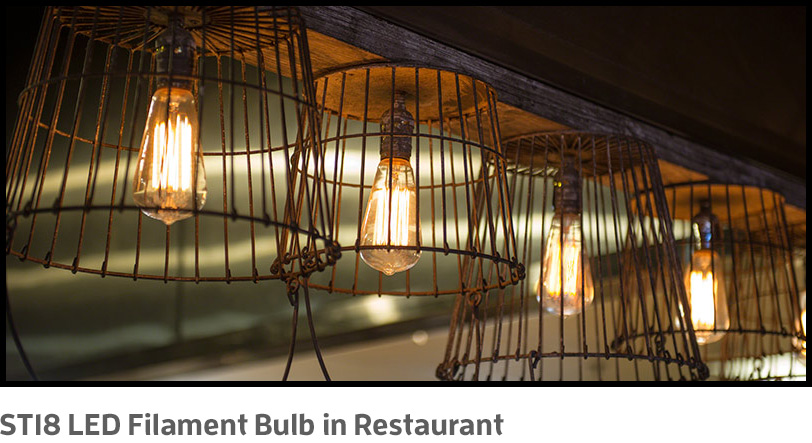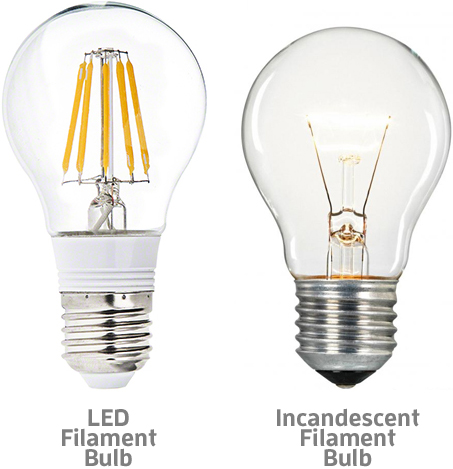 Maintain the Vintage Look You Love
LED Filament Bulbs may work differently than Incandescent Filament bulbs, but that doesn't mean they have to look different. Our LED Filament Bulbs are made to look like traditional filament bulbs, complete with dimming capabilities.
Energy Use

 Incandescent
 bulbs are much less efficient than LEDs, as they convert less than 5% of the energy they use into visible light. 95% of the energy is converted into heat instead, putting a strain on your A/C when using multiple bulbs.

 LED Filament Bulbs are still able to give you the vintage glow of an Incandescent Filament Bulb, but without the high energy consumption. With bulbs ranging from 2-8 watts, our LED Filament Bulb selection will help save you money and keep your energy usage low.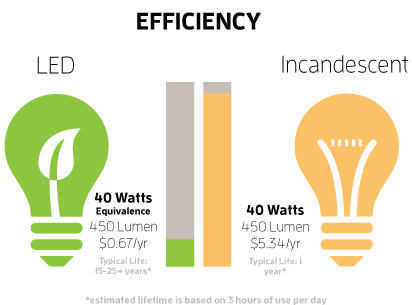 Go Green and Save Money!
A more efficient bulb means saving more money and using less energy. Not only do LEDs work great with your current energy provider, they are perfect to use with alternative energy sources, like solar and geothermal power, because of their low current draw.
Lifespan

 Incandescent
 filament bulbs typically have a lifespan of about 1,000 hours for home use, whereas our LED Filament Bulbs have a lifespan of 30,000 hours.

 LED Filament Bulbs' long lifespans will not only save you money on your electric bill, but will also save you money on replacement bulbs, as they will be replaced less frequently than Incandescent filament bulbs.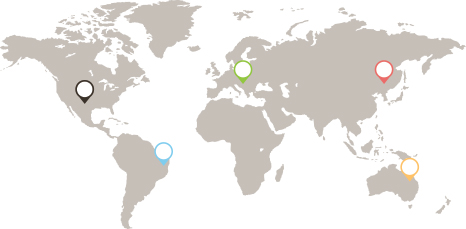 A Global Initiative
Against Incandescent Bulbs
Several countries, such as Australia and Brazil, have completely outlawed Incandescent bulbs, while the US is in the process of phasing them out entirely.
Benefits of Our LED Filament Bulbs
Not only are our LED Filament Bulbs more technologically-advanced, energy efficient, and cost-effective than traditional Incandescent filament bulbs, they offer a wide variety of added benefits as well:Color Options: With most bulbs offered in both a Warm White and Ultra-Warm White option, you can create the vintage look you want without having to settle!

Outstanding Warranty: All LED Filament Bulbs include a 2 year warranty, no questions asked.

Low Comparable Wattage: With comparable wattages ranging from 15W to 45W, you can be sure that our bulbs will create the perfect ambience for any application.

Dimmable: Most of our LED Filament Bulbs are dimmable, making it easy to change the mood at the flick of your wrist.

So there you have it! With LEDs, there's no need to compromise, and we make switching to them a breeze! To view our LED Filament Bulb options, click here.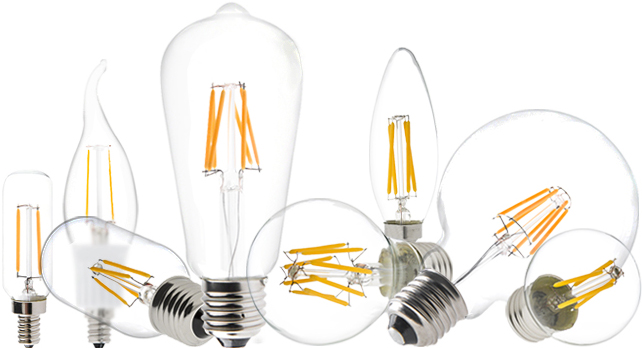 A Bulb For Every Application
With several offerings in different bases, shapes, and sizes, you're sure to find a replacement for any application you need!

As always, our tech support is available Monday through Thursday from 8:30 AM to 8:00 PM CST and Friday 8:30 AM to 4:00 PM CST to help you with all your LED lighting needs. Call us toll-free at 866-590-3533 or email us here.