FAQ: Installing LED Landscape Lighting
|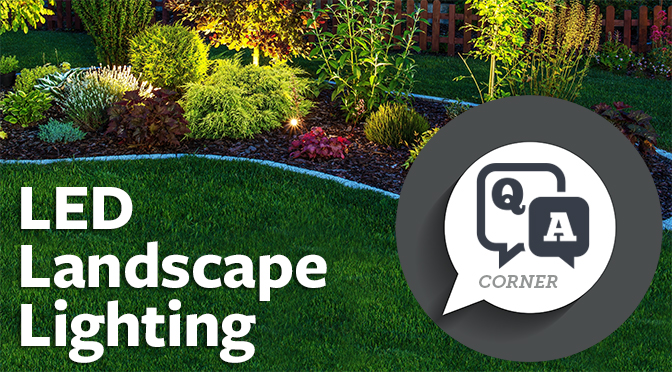 With the season of spring upon us, you may be interested in installing LED landscaping lighting to beautify your yard or garden. Questions about installation? We've put together some of the most frequently asked questions from our customers.
Why can't I just plug my LED landscape path lights directly into my outdoor outlet, bury the wire, stake the lights, and be finished? If I get multiple LED path lights, can they be connected together on one wire, or do I connect them each individually?
The job of a power supply is to convert 120 volts alternating current (AC) into 12 volts direct current (DC). This is why power supplies are also called power converters. You will need to connect your LED path lights to a low-voltage wire, and run it back to your 12-volt power supply. To determine the gauge of wire you need, take into account the total current draw and the distance between the power supply to the light installation location. The key is to avoid voltage drop, which happens when the supplied energy of a power source is reduced as electric current flows through wire (or any other pieces of equipment that do not supply voltage on a circuit). The longer the run of wire, the lower the gauge of wire needed.
How do I figure out what size (wattage) power supply I need for my LED outdoor lighting project?
First, determine how many lights your project requires and how many watts are consumed per light. You must make sure to have a large enough power supply to handle the current draw (wattage) of all of your combined lights.
To ensure that you don't overwork the power supply, confirm that the light strip's total wattage is at least 20 percent less than the power supply's rated wattage. An easy way to calculate this is to multiply the total wattage of your combined lighting by 1.2. For example, if you have five four-watt LED path lights, your combined lighting wattage is 20-watts. Simply multiply 20-watts by 1.2 to determine which power supply you'll need. A 25-watt (or higher) power supply will do the trick! If you try to run lights, or a system of lights, at full capacity, it could result in premature failure of the power supply.
What are your G-LUX connectors for?
Our G-LUX connectors are plug-and-play fastening methods for joining outdoor lights together. There are many different choices available for purchase to aid with linking multiple outdoor lights to operate on one power supply. To add lights to your existing 12-volt wiring, you can use our GLUX-MPT and GLUX-FPT connectors.
What brightness and color options are available for LED landscape lighting?
Our landscape lights are available in a variety of brightness levels from four lumens up to 7,800 lumens. Depending on the bulb or fixture, we offer many colors, including cool white, warm white, natural white, red, green, blue, amber, yellow, purple, and multicolor RGB. We try to make it as easy as possible for our customers to be able to see the lumen output (brightness), correlated color temperature (CCT), and color options right on individual product pages.
How do I turn my landscape lights on and off?
If you have an outdoor outlet that is wired to a switch, you can easily power your lights on and off by plugging your landscape power supply into that outlet. Another option would be to use our Dusk-to-Dawn Sensor, which automatically powers lights on at night and off during the day. If your landscape system consists of any of our G-LUX RGB flood or spotlights, you can control them with a G-LUX RGB Remote.
How long will your outdoor LED lighting last?
Super Bright LEDs has an in-house test lab where we thoroughly inspect the durability of all of our products to ensure they are long lasting and meet our quality standards. The expected life span for our outdoor lighting ranges from 20,000 to 50,000 hours with at least a two-year warranty on all of them.
For technical questions, don't hesitate to call us toll free at 866-590-3533. Our customer service and technical support teams are available from 8:30 a.m. to 8 p.m. CDT Monday-Thursday and 8:30 a.m. to 4 p.m. CDT on Friday.