Easy Residential LED Lighting Updates to Sell Your House
Are you in the market to sell your house? Are you looking for easy ways to make your home more appealing to prospective buyers? "Eight out of ten people say the energy efficiency of their next home purchase is more important to them than it was a year ago due to rising energy prices and environmental concerns." -Chris Duce, Knight Frank
While selling or purchasing a home offers many opportunities for upgrades, few are as simple as updating to residential LED lighting and fixtures. An easy way to increase the visual impact of your living spaces without expensive remodeling is to update your lighting. LED lights brighten up the space and make it appear more inviting and ready for purchase.
Easiest Update: Switch to LED Light Bulbs
One of the most affordable and easiest ways to update your home lighting before selling is to switch all your outdated incandescent, CFL, or halogen light bulbs. LEDs are more energy efficient and offer a high Color Rendering Index (CRI), meaning they reveal the true color of the environment they illuminate.

Switching to LED bulbs with a high CRI will liven up the space by making accent colors pop, textures stand out, and give your finishes depth and luster. LED bulbs are also dimmable which allows you to customize the light output based on your mood or on the time of day. Some bulbs also offer smart home capabilities, with which you can select the color or brightness of your light bulb, by using your phone or Amazon Alexa, or Google Home Assistant.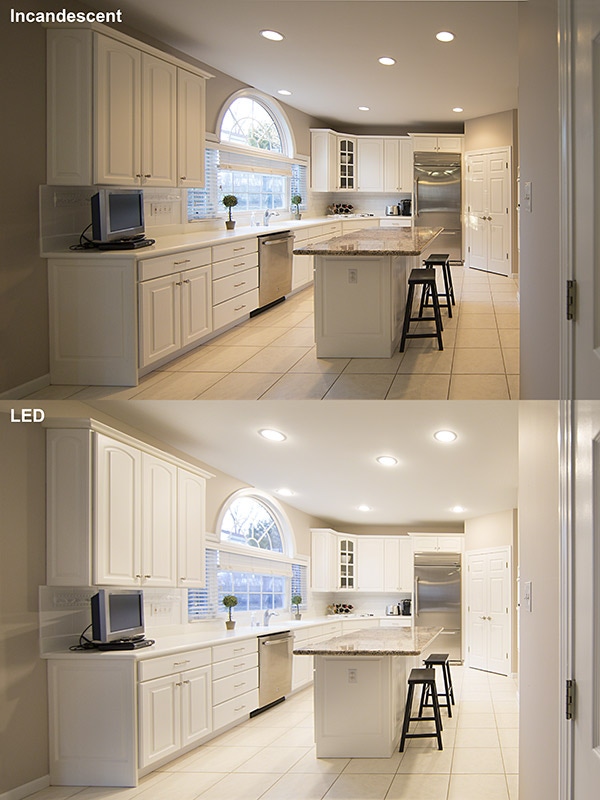 Layer Your Home Lighting
Add extra light and depth to your space by layering different light fixtures, including recessed lighting, LED light strips, or under-cabinet lighting. Here at Super Bright LEDs, we offer a variety of LED light bulbs, strip lights, outdoor lighting, accent lights, landscape lighting, and more to make your home bright, inviting, and ready to sell.
Home lighting can have different purposes such as general lighting, accent, and task lighting. These purposes are served by different forms of lighting such as recessed downlights, under cabinet lighting, LED strip lights, and pendant lights.
If you have dated, dingy, or dirty light fixtures, it is time to update those. Light fixtures can be relatively inexpensive compared to the return on investment they can bring when listing your house for sale.
Layer with Different Types of Accent Lighting
Accent lighting is a type of lighting used to highlight or emphasize a specific area or object in or around your home and is intended to draw attention to a piece of artwork, a sculpture, a landscape, or architectural detail, by creating a focused beam of light.
Accent lighting is often used in combination with other types of LED light fixtures, such as ambient and task lighting, to create a layered and dynamic lighting scheme in a home. It can also be used to create a certain mood or atmosphere, depending on the color and intensity of the light. Accent lighting is often used in combination with other types of lighting, such as ambient and task lighting, to create a layered and dynamic lighting scheme in space.
Accent lighting can be achieved through a variety of light fixtures, such as track lights, spotlights, wall sconces, or table lamps. It is typically placed at an angle and directed toward the object or area being highlighted.
Recessed Lighting
Recessed downlighting is a great energy-efficient, low-maintenance option for residential lighting and making it appear larger and more inviting. Our recessed lights are available in different CCTs (Correlated Color Temperature) and styles such as gimbal, flush mount, and baffle. If you currently have existing recessed lighting, retrofit your fixture with our LED retrofit kits with adapters that screw directly into the socket. You can view our entire line of downlights here.
Recessed lighting opens up your living spaces and is especially important in the kitchen where good lighting is necessary for meal preparation and conversation.
One of the best benefits of recessed lighting fixtures is they are sleek, unobtrusive, and timeless. Plus, they can be placed in a variety of areas to enhance a room and light the space. Other benefits of recessed lighting and downlights are:
Clean and modern: Recessed lighting creates a clean and modern look because the light fixtures are installed into the ceiling, giving a streamlined appearance.

Space saving: Because recessed lighting fixtures are installed into the ceiling, they do not take up any floor space, which can be useful in small rooms or spaces where floor lamps and other lighting fixtures would be in the way.

Flexibility: Recessed lighting can be used in a variety of spaces and can be adjusted to suit different lighting needs. They can be used to highlight specific areas, create mood lighting, or provide general illumination.

Increased home value: Recessed lighting is a desirable feature in homes, and installing it can increase the value of your property.

Improved safety: Recessed lighting can improve safety by providing adequate lighting in dark areas and reducing the risk of accidents.
Task Lighting
Task lighting makes completing specific tasks easier, such as food preparation, reading, writing, or working. LED task lighting is bright enough to illuminate small details, reduce eye strain, and eliminate distracting shadows.
Task lighting can be provided by a variety of light fixtures, including desk lamps, under-cabinet lights, track lighting, and pendant lights. Task lighting provides the necessary light for the task at hand, while also reducing eye strain and minimizing shadows and glare. In addition to being functional, task lighting can also be used to enhance the appeal of a space.
Under Cabinet Lighting
Under cabinet lighting is a popular use of flexible LED light strips. Installing LED strip lights onto the toe kick of your cabinet and above countertops provides a subtle glow that creates an inviting, layered look. We also sell rigid LED bars which can be used for many home lighting applications, such as under-cabinet lighting, workbench lighting, display case lighting, and showcase lighting. Under cabinet lighting increases visibility and can make it seem there's more natural light in the space. And as any Realtor will tell you, kitchens sell houses.

Outside the kitchen, any cabinet, cove, or shelf can benefit from additional task or accent lighting. This has a way of making your space more inviting and appearing larger than it is. Check out our blog "How to Install Under Cabinet LED Strip Lighting" for more information.
Ambient Lighting
Ambient LED lighting is an energy-efficient way to add a unique and inviting atmosphere to your home. Think about what you want to achieve with the ambient lighting. Do you want to create a relaxing mood, highlight a particular feature in the room, or provide soft lighting for a movie night?
There are many different types of LED lights, including tape lights, strip lights, and individual bulbs. Choose the type of LED lights that will work best for your space and design. Ambient lighting is often used in conjunction with other types of lighting, such as task lighting or accent lighting, to create a balanced and aesthetically pleasing lighting design. It can be adjusted in intensity to suit different moods or activities.
Closet Lighting
Dark closets make for a bad selling point. Utilizing closet space is all about organizing, optimizing, and being able to see what the closet contains. One way to optimize the space is to provide illumination for a clean and luxurious effect that highlights dark corners and makes items easily accessible.
Use LED downlights to enhance visibility on top shelves and LED strip lights along the edges of shelves or at a shelf's base for better visibility. No matter if the closet is big enough to walk inside or just has enough room to store items, lighting transforms the space and gives a much cleaner look.

Closets are also a great space to utilize motion-sensing LED lighting so that upon entry, the closet is brightly lit providing convenience and functionality. For simplicity, you can add our battery-powered LED puck lights to your closet without having to install electrical or wiring. They are available with a touch switch or a motion sensor and can just be stuck up with adhesive in a closet or back-mounted with the hook or screws.
Cove Lighting
LED cove lighting or tray lighting is a great way to add accent lighting or color to any room for a unique look. Install LED strip lights in any trayed ceiling, cove, nook, or coffered ceiling to make your room feel larger. Using a natural white color temperature will give the effect of a higher ceiling, expanding your space and making it feel more elegant.
You can also install LED lights with a specific color or color-changing LED strips, not only basic white LEDs. There are many different strip light options to choose from, including our strip light kits. Read our "How to Install LED Cove Lighting" blog to learn more.
Outdoor Lighting
It is also important to consider that there are many times before a potential buyer will drive past to see the curb appeal before choosing whether or not to view the property for purchase. This means that outdoor lighting for the home is also essential to consider.
Great outdoor and landscape lighting can add curb appeal and value to your home. Add LED string lights to your deck, patio, or firepit to create a cozy, comfortable environment. These are relatively inexpensive and easy to install and give a backyard an inviting look and feel.
LED flood lights and spot lights are good options for highlighting aspects of your landscaping such as fountains, pillars, porches, gardens, etc. LED Well lights are also an excellent option for highlighting landscaping and illuminating any eye-catching aspect of your home such as trees, arches, bushes, and gardens. Landscape lighting adds value, and a well-lit home is perceived as safer.
Purchase multiple LED path lights in a pack to illuminate walkways to the front door, driveways, or pathways through a garden. Mini LED path lights are a great affordable option and aren't limited to walkways and paths. They can be mounted in gardens and landscaping to provide a gentle glow that lights surrounding plants, rocks, or other features. These come in various styles and fixtures are sold individually and in complete kits.
Why Lighting Matters When Selling Your Home
When staging a home to sell, if you have dated or dingy lighting fixtures or a lack of light it can date and age your home, making it harder to sell. Brighter LED residential lighting makes a home feel larger, more modern, and inviting while increasing energy efficiency.
A well-lit space feels more open, attractive, and clean. Buyers feel positive about a well-lit home, which can help create a favorable first impression. Proper lighting draws attention to the best aspects of a home, such as architectural details. This helps buyers see the value in your home and appreciate unique features.
Lighting is a crucial element when it comes to selling a home. It can make or break the buyer's impression of a property and even influence their decision to purchase. Poor lighting can make a home feel gloomy and uninviting. Adequate lighting not only enhances the overall appeal of a home but also plays a significant role in enhancing functionality and safety. Therefore, sellers must pay close attention to lighting when preparing their homes for sale to create a warm and inviting atmosphere that will appeal to potential buyers.