Easy-to-Install LED Landscape Lighting
|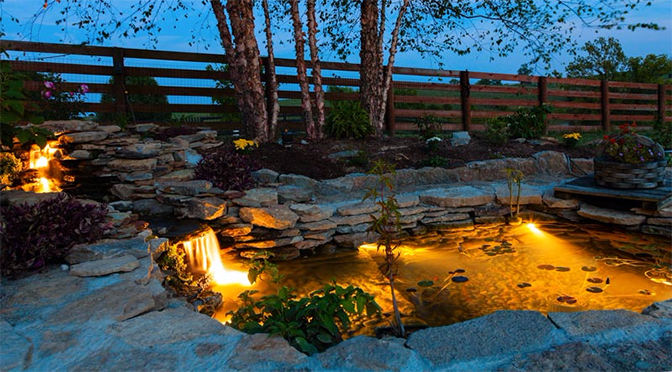 With the G-LUX series LED Landscape Lighting system from SuperBrightLEDs.com, it's easy to incorporate accent lighting into your outdoor environment. Simple and versatile, this plug-and-play product line can be used as a complete system on its own, or be incorporated into other brands, or existing systems. The wide range of accessories and products can be used in a variety of landscapes and settings:  from hardscapes and pathways, to tree uplights, sign spotlights, and even waterproof solutions for fountains or ponds.
Use our video, diagrams, and products listings below to find the best solution to your lighting project. Or, shop our G-LUX series now.
Installing a single G-LUX LED landscape light in a G-LUX system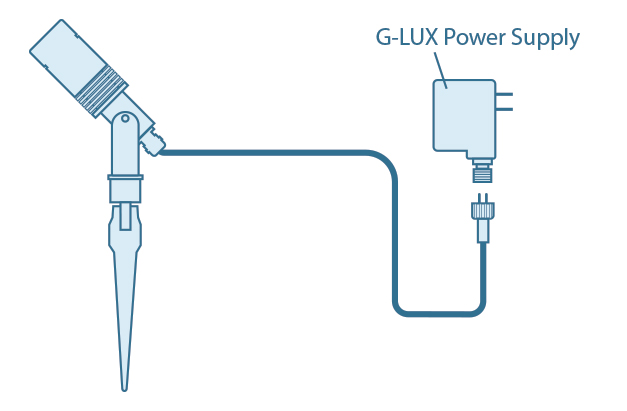 This simple installation consists of your G-LUX LED landscape light and a G-LUX power supply. Choose a power supply that is rated for a wattage equal to or more than that of your LED landscape light. You can use a G-LUX extension cable to reach spots that are far from your power supply.
Using extension cables and 5-way/3-way splitters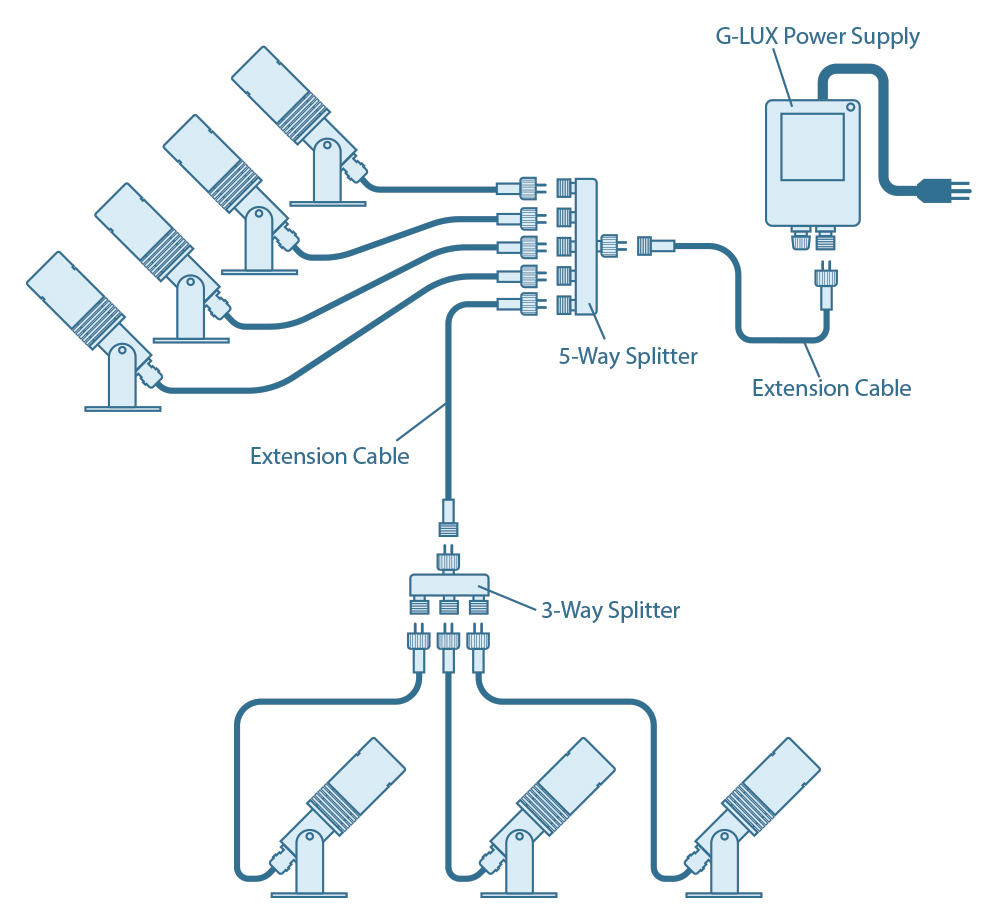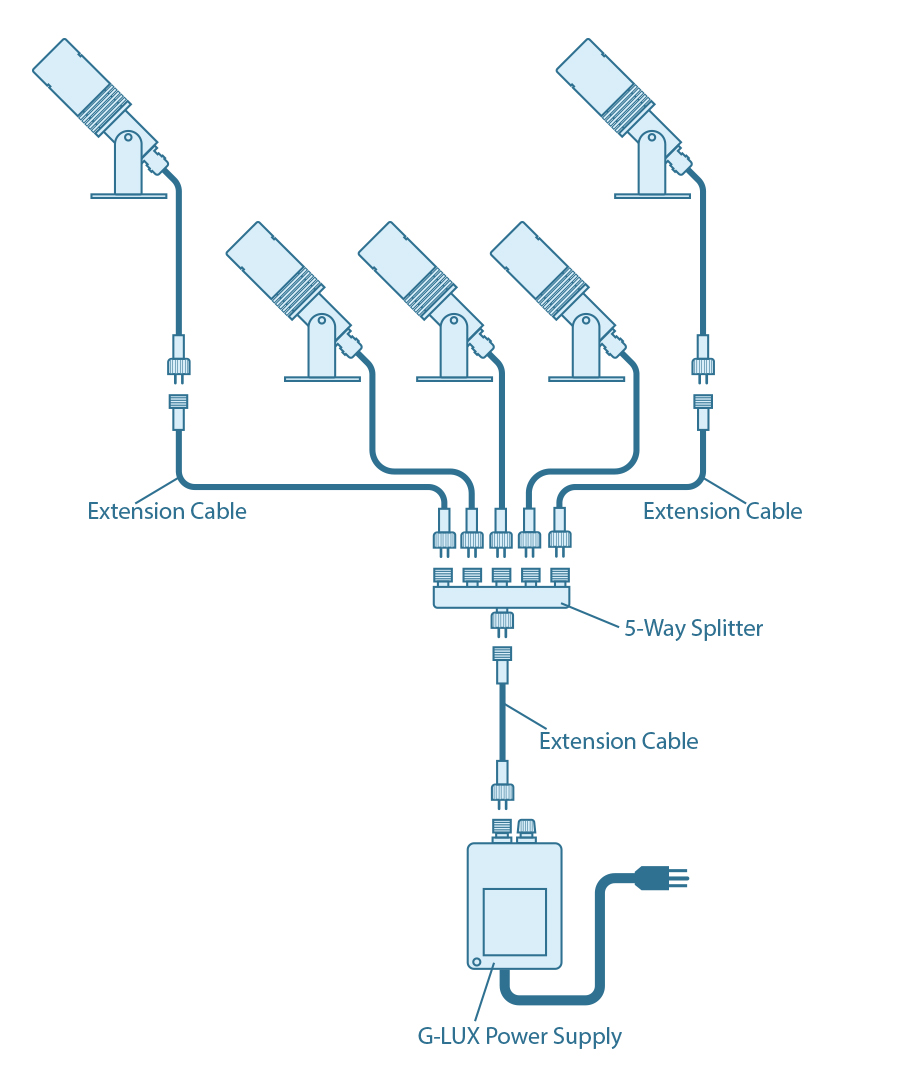 You can use G-LUX splitters and extension cables to lengthen the reach of or increase the number of lights in your LED landscape lighting system. Splitters are available in 3-way and 5-way options, and extension cables come in 6.56-foot, 16.4-foot, and 32.81-foot lengths. Use any combination of these plug-and-play accessories to add LED landscape lights where you need them. Make sure that the power supply you choose can handle the combined wattage of all your LED lights.
Installing a G-LUX light in an existing low-voltage landscape lighting system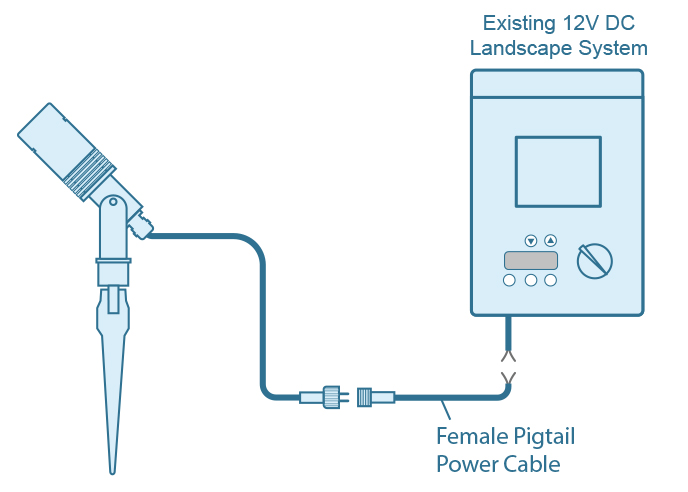 For this type of installation, you'll need a G-LUX female pigtail power cable to use with your G-LUX LED landscape light. Connect the female end of the pigtail power cable to your LED light, and connect the pigtail wires to the main line that runs to your other lights and existing power supply. You can also wire your G-LUX LED landscape light directly to your power supply.
Installing a different brand or type of landscape light in a G-LUX system

You can create a G-LUX landscape lighting system using G-LUX LED lights and another brand of lights. All you need is a G-LUX male pigtail power cable for every other brand of light that you wish to install in your system. Before you install any additional light in your landscape lighting system, make sure that your power supply can handle the combined wattage of all lights. Join each light's pigtail wires with the pigtail wires on the power cable. Be sure to seal your connections. Plug the other end of the connector into your choice of G-LUX accessories (extension cable, splitter, or power supply).
Using a dusk-to-dawn sensor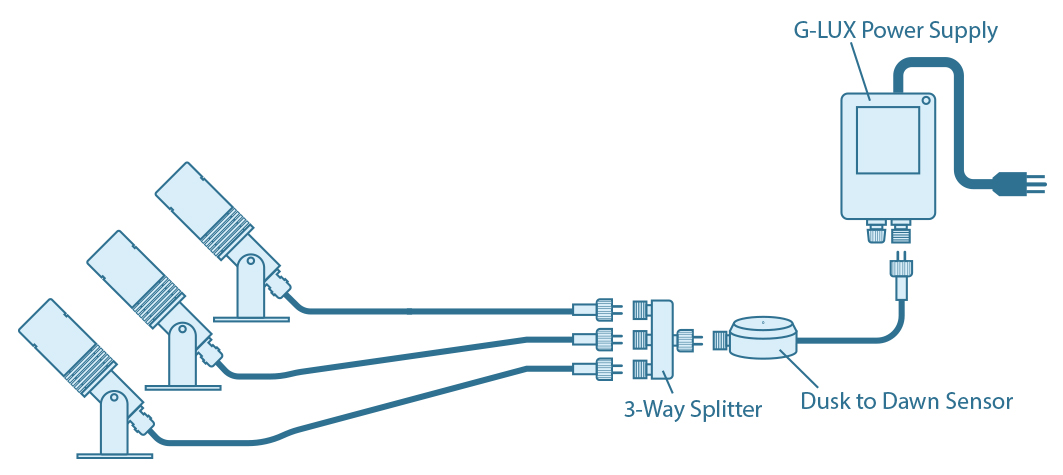 A G-LUX dusk-to-dawn sensor will turn your landscape lights on at dusk and off at dawn. A sensor with an automatic timer is also available to keep landscape lights on for two, four, or six hours after dusk. The sensor must be plugged into your G-LUX power supply, and anything that you want it to control must be plugged into it. If you want the sensor to control multiple lights, plug your splitter or extension cable that is plugged into the splitter into it.
Underwater lights and waterproof connections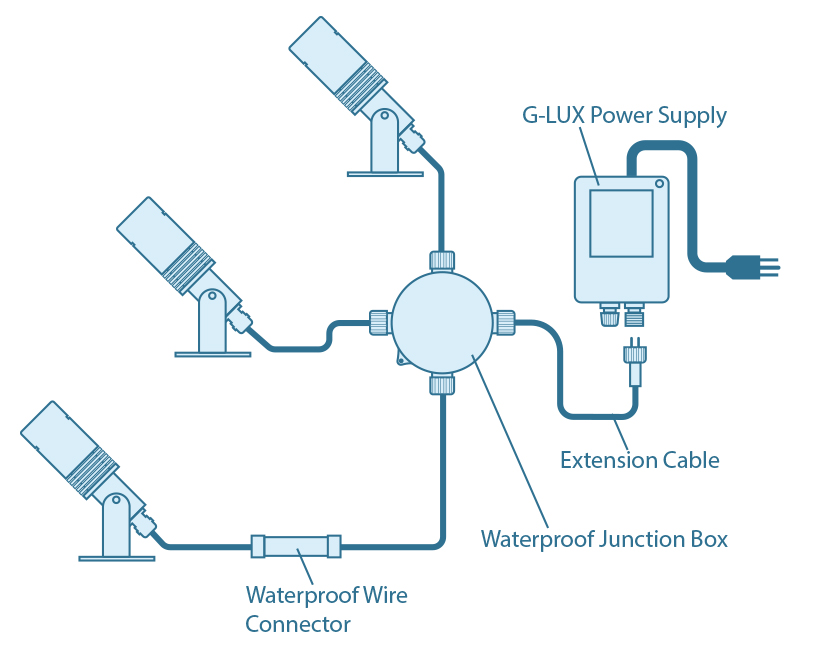 If you're using waterproof G-LUX LED well lights or spotlights in ponds or fountains, there are a couple waterproof accessories that you might need. Use a waterproof three-way junction box to connect up to three LED landscape lights to your G-LUX power supply. Plug an extension cable into the input hub, and run it to your power supply. If you need one of your lights to reach farther under water, you can use a G-LUX extension cable and a G-LUX waterproof wire connector to do so.
Quick Guide to Installation Accessories:
Dusk-to-Dawn Sensors
Extension Cables
Junction Box – Waterproof
Pigtail Power Cable – Male
Pigtail Power Cable – Female
Power Supplies
Splitter Hubs
Wire Connector – Waterproof
For technical questions, don't hesitate to call us toll free at 866-590-3533. Our customer service and technical support teams are available from 8:30 a.m. to 8 p.m. CDT Monday-Thursday and 8:30 a.m. to 4 p.m. CDT on Friday.