Adjustable CCT: A Purchasing Guide for contractors, homeowners, and designers
|
With the simple push of a button, adjustable CCT LEDs are able to change between different temperatures of white light. This feature allows one fixture to have multiple white tones, ranging from warm, to daylight, to cool. Understanding the basics of color temperature helps explain how different hues can affect an environment.

Even with this knowledge, sometimes a light must simply be installed to see how it affects a space. Instead of ordering multiple lights with different color temperatures, order one adjustable CCT product that carries multiple options within itself. Install the fixture, and change the color temperature until it's right.
This versatility enables contractors to lower their SKUs, while still offering variety and adapting to client needs. It gives homeowners and designers the ability to independently change tones to create a certain atmosphere and easily coordinate decorative fixtures.
When choosing an adjustable CCT product, it is helpful to consider: 
Who will be selecting the temperature and how often?
Contractor Select CCT: Color Temperature will be changed once, by the contractor, at the time of installation.
User Select CCT: Color Temperature can be changed frequently by the user or owner at anytime.
Use the answer to the above question as a guide to select the right products for particular projects.

Best for applications where the color temperature will be adjusted at the time of installation. This selection typically features "Selectable CCT" with a switch that moves from a preset warm, daylight, and cool white. 
Whether the project is securely lighting a public space, accenting landscape features, or downlighting a residential basement, these products offer benefits for contractors who need to anticipate changing client preferences. 
Though it is most ideal to Select CCT at the beginning, it is not difficult to change with the flick of a switch or push of a button at any time. In this case, the selecting mechanism is often protected within housing or a grid ceiling, so the light may need to be opened or removed to change.
See our line of indoor and outdoor Contractor Select CCT products:

Best for applications where the color temperature will be adjusted at anytime after installation. This line features both "Selectable CCT" products with preset temperatures selected by switch or remote, or "Tunable CCT" products with a remote or phone app that moves through the spectrum of hues.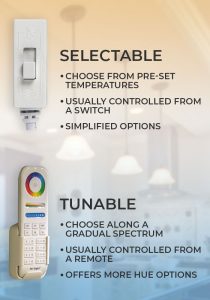 Products with User Select CCT put the changing capabilities in the owner's hands. Contractors still benefit from carrying these fixtures, for the flexibility they offer to designers and homeowners. Even with a beginner's technical level, these lights can easily be controlled once installed.
With a selection ranging from bulbs, to panels, to strips and more, these lights can improve the coordinated lighting in offices, homes, and venues. For a restaurant that changes ambiance from day to night, a patio that hosts both ragers and relaxed gatherings, or a room that requires task and decorative lighting, these lights can be altered to the occasion. 
See our line of indoor and outdoor User Select CCT products:
---
To change lights with even greater control, see our Smart Lighting solutions. There are Tunable White and various color options where light can be directed through wireless connections.